Young Cats looking to scratch to top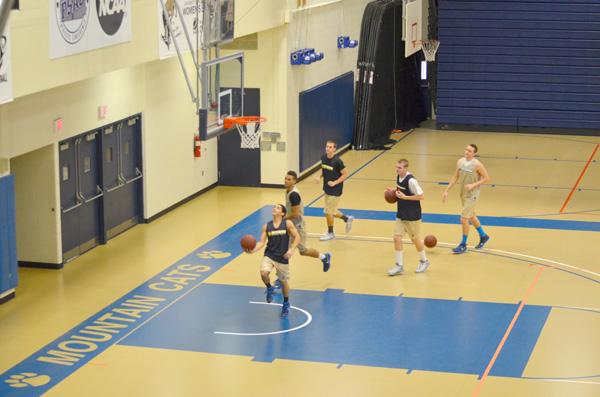 The Pitt-Johnstown men's basketball team has more depth with a youthful roster after an arguably disappointing season as first year members of the Pennsylvania State Athletic Conference.
The team has eight underclassmen of 13 players but lost three starting seniors last season (guard Andrew Cressler, forward Bill Luther and guard/forward Paul Weatherly).
Both Cressler and Luther were the backbone of the Mountain Cat offense, leaving the team having to find a new source of production.
The team will also have to replace Adam Shaheen who was a three-time freshman of the week in the conference last season after transferring to another school
The number of unproven players on head coach Bob Rukavina's roster did not seem to fool the conference's coaches as they projected Pitt-Johnstown to finish in fifth place of nine West Division teams.
The top six teams in each division make the conference playoffs.
Pitt-Johnstown finished last season with a 13-13 overall record and a 6-10 conference record.
Preseason 2014-2015 All-Conference First Team center Ian Vescovi comes into his senior season with an excitement of the potential of the entire roster.
"We are capable of playing very efficiently on offense," the captain said.
"We have a number of players who can score and we are a very cohesive unit on offense."
Vescovi also said the team has more depth than seasons past with the ability to play 10 players in one game.
Offense was not the downfall last season for the Mountain Cats as they were the conference's best in field goal and three-point percentage.
The team struggled on defense at times, especially late in the season, giving up 73 points per game on average, which was ranked 11th in the conference.
The team also was ranked 12th in three-point defense.
"We are in a bit of a transition phase, but, at the same time, we have been able to bring in some very talented players who will make immediate impacts," he said.
"We have the potential to be more productive at several positions and continue to develop into a better team as the season goes on."
This season's true freshmen, forward Levi Masua and guard Dale Clancy Jr., come to Pitt-Johnstown after prolific high school careers and both have played in Pennsylvania state championship games at Seton La Salle high school in Mount Lebanon.
Vescovi, along with senior guard Matt Palo and junior guard Nate Snodgrass have been named captains for this season.
"It means a lot for coach (Rukavina) to trust me to lead the team along with Matt (Palo) and Ian (Vescovi)," Snodgrass said.
Last year was the first season as a Mountain Cat for the Butler native, who transferred from Northern Kentucky University after his freshman year.
"It won't change how I play, though. I tried to be a leader on the court as well as a vocal leader last year, so, hopefully, I can do the same this year."
Palo said that having become familiar with other conference schools could be something that helps the team win more this season.
"It is a big help to have a year under our belt already," he said.
"It is a different playing style than the (old West Virginia) conference and this year we know what to expect and can help us better prepare for these teams."