Lady Cats sparked by winning streak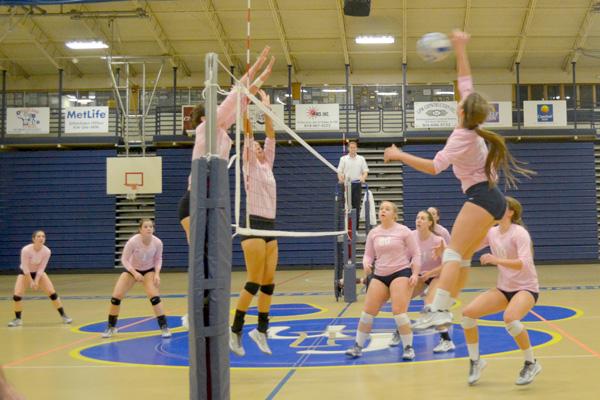 What a difference a week makes for Pitt-Johnstown women's volleyball team.
After losing six of seven matches from Oct. 10-21, the team was rolling on a six-match winning streak before taking on Shepherd University (Shepherdstown, W. Va.) Tuesday in a late season non-conference match.
The team also clinched a playoff berth last weekend and were tied for first place in the Pennsylvania State Athletic Conference East Division as of Sunday .
It all started with a convincing victory of a bottom dweller, East Stroudsburg University team in three sets, 3-0.
The team wasted little time to earn their next win by traveling to Kutztown University and defeating them 3-1, a team that beat the Lady Cats homecoming weekend at the Sports Center.
Pitt-Johnstown then opened a four-match home stand to end the home portion of their regular season schedule.
It commenced with a battle for first place against  Lock Haven University when the Bald Eagles led Pitt-Johnstown by a game in the east division standings.
The Lady Cats were led by a cast of freshmen, who have become vital parts of the team's offensive production, to a 3-1 victory that gave a first place tie to the Lady Cats but also gave them ownership of the head-to-head tiebreaker over Lock Haven.
"Coming in as a freshman, I was not sure how much playing time I would get, but now our starting lineup is mostly freshman and we have been doing really well this season," freshman outside hitter Cambria Weirman said.
The Lady Cats finished their home stand with senior day last Saturday, defeating West Chester University 3-1.
The team recognized seniors Nikki Oakes and Kelsey Shanabrook.
"I am sad to see my last home game come and go, but I am truly happy to know we won, " Oakes said.