Wrestlers restless for first competition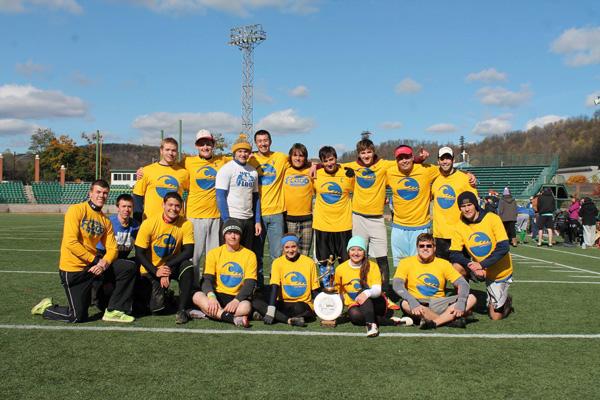 Pitt-Johnstown Flood ultimate team has started their year with a victory that has opened new doors.
This past weekend, the Flood hosted a tournament Oct. 18-19 called the Jymmy Jam.
Established in 1997, a few of the people on the team were interested in jam bands, so they started a tournament Pitt-Johnstown named festively, the Jymmy Jam.
The Jam has been an annual tournament the team has enjoyed mostly because the team is able to play before winter weather hits.
"We hold this tournament early in the year because it is a great chance for new players to learn how a game runs before our spring season, and to step up to the plate and be a playmaker," said junior captain Evan Johnson.
Because Pitt-Johnstown is near other schools, attendance is high and alumni have a chance to play for the weekend.
The current team played against the team made up of Pitt-Johnstown and Flood alumnus in the tournament's championship.
The current team ended up beating the alumni players in the final game with a score of 15-11.
"The alumni team was good, and we beat them. That was an incredible feeling for the whole team," said freshman Julien Robinet.
There were strategies the team used to their advantage.
Sophomore Brandon Hines said the team was split into two sub teams, the X team, and the Y team.
"The Y team did really well and went undefeated throughout the entire tournament," said Hines.
"We developed a new system.  All players got a punch card.  Every time a player went above and beyond, they got a punch.  Every time a player did poorly or was not a team player, they received a storm cloud sticker that they had to wear all day."
"The teamwork during the tournament was at an all-time high," Hines said.
Johnson said to win, the team implemented all the strategies they taught at practice.
Team members said winning the tournament was important to the team for many reasons.
Hines said he believes it was important to win because the team now has a spot in the championship tournament.
Johnson said, winning set their season off on the right foot, since they were able to defeat the alumni for the championship, which has only happened twice before.
That was a great confidence booster considering that the alumni players were more experienced than most of them.
"If we keep up the hard work, I'm sure spring season has a lot to offer," said Johnson.