Women are rolling to more derby glory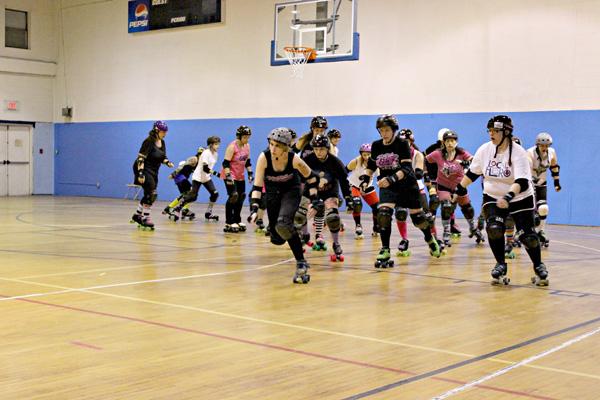 At first glance, the J-town Roller Girls, are an intimidating bunch.
Their gear alone—helmets, mouth guards, and knee and elbow pads — make them look abrasive, in addition to the myriad piercings, tattoos and colorful costumes that set this group of women apart from the athletic norm.
At a Sunday afternoon practice at the Windber Community Building, skaters talk in small groups, gear up and skate independently and in pairs to warm up.
League owner Kim "Kimproper Konduct" Stewart, a petite and friendly brunette, enters the gymnasium, greeting and joking with the players.
Once practice begins, Stewart's persona transforms from pleasant to fierce; her coaching voice demands the skaters' compliance.
She instructs the skaters through a practice routine of forward and backward partner skating, low blocking and falling safely.
Stewart adopts this brand of "tough love" because she wants her skaters to play their best on behalf of the league and themselves. She stresses coming to every practice and getting more exercise through derby.
"(It's) everything they possibly can do to make themselves better—equipment, eating better, sleep—because I want (The J-town Roller Girls) to really prosper here," Stewart said.
The girls had their first practice in May. The league consists of two inner-league teams, Coal Miner's Slaughter and Highland Heartbreakers.
The inspiration for the girls came in part from an increasing interest and curiosity among Stewart's friends. Despite her love for derby, the drive to Westmoreland County or State College was wearing on her.
Earlier this year, Stewart sprained her ankle when learning to referee. "I was sitting at home, doing nothing and driving myself insane," she said. Through this boredom, Kim contemplated getting a group together to skate, and on March 17, she made the decision to form the league.
Roller derby often becomes a lifestyle for the women involved; joining the league is a commitment. "I live and breathe derby," Stewart said.
The skaters practice three times a week.
Professor Kristen Majocha, known in roller derby as "Dr. Krush," joined the J-Town Roller Girls in September.
"It's a freedom. It's speed. There's a thrill. There's a rush," Majocha said, who has skated since childhood. "As a sport and as an activity, I truly enjoy it."
After joining the J-town Roller Girls, she discovered additional benefits to being involved.
As a workout, the intense physical activity that roller derby provides surprised Majocha.
"I never, ever thought I was gonna work this hard in my life—one of the girls has a quote on the back of her helmet that says 'skate 'til you puke,' and I didn't understand it until I scrimmaged the first time," Majocha said.
"I was so exhausted, that I thought I was going to puke."
Of the sport aspect of roller derby, Majocha says, "It's 100% physical activity."
Along with protective gear, some of the skaters wear multicolored socks, fishnet stocking and tutus. Wild makeup, tattoos and body piercings often can be seen at bouts.
"Those kinds of artifacts don't go over well in any other culture that I'm aware of, at least in this area," Majocha said.
"We're the weirdos. We're the freaks. We're the misfits. Suddenly we belong. And we belong together."
On Oct. 12, announcer Bruce Standley updated the scoreboard for the mixed scrimmage with a Westmoreland County team, WestCo.
"The rules of derby can get a little complicated," said Standley.
Jams are shifts, which last two minutes. In each jam, a pack consisting of eight players, or blockers, is out front, led by a defensive pivot blocker, who wears a striped helmet cover.
Behind the pack, jammers, marked with a star on their helmet, try to skate through the pack, and out the other side.
Once the jammers have made their way through the pack, scoring begins. A point is earned when a jammer legally passes a member of the opposing team.
A penalty is earned, by a jammer, by illegal passing, which includes elbowing, tripping and back blocking. Passing out-of-bounds will also result in a penalty.
The jam ends when the lead jammer places her hands on her hips, or when the two minutes has elapsed.
Pitt-Johnstown graduate Lisa Polaski, nicknamed "Betty Bombshell," has found social and empowering benefits through involvement with the J-town Roller Girls.
"We want you to skate as part of our team. We want you to be better as a skater, as a player and as a person," Polaski said.
Though there have been some instances of personalities clashing, Polaski said everyone works through their issues respectfully, and credits Stewart's leadership.
"Stewart is a superb leader," Polaski said.
"It's not just what everyone thinks it is.  (They think) you punch other girls. You hit them with elbows. You bite them. You smack them. We don't do any of that."
Polaski said this mentality comes from the days when roller derby was a scripted, televised event.
Lindsay "Roxie Razorblade" St. Clair, 28, played sports in high school, and said she missed the involvement.
"I felt like my days  (in the spotlight) were long gone," St. Clair said.
She learned about roller derby from a flier, and met Stewart through the Westmoreland County team
"I've known lawyers, therapists, teachers, professor—people that you sometimes would never expect, from all different backgrounds," she said.
"For me, it's a combination of the friendships and staying in shape."
Through involvement with the J-town Roller Girls, many skaters have made changes beyond the experience of the sport. Even beginners have found their place in the league, including Janna "Jannibal Lecter" Bottoroff.
"I didn't even know how to skate before joining," Bottoroff said. "I just always thought it looked like so much fun. I always wanted to do it, but it was too far to drive to the next league."
Her boyfriend, Brian Anderson is now a coach of the J-Town Roller Girls Derby. She said he pushed her to join, despite her initial hesitation.Bottoroff hopes after the first official bout on Nov. 30 more girls will want to join the team.
"You make new friends, you go to practice, and you beat the snot out of your new friends."