Top three scorers continue to kill it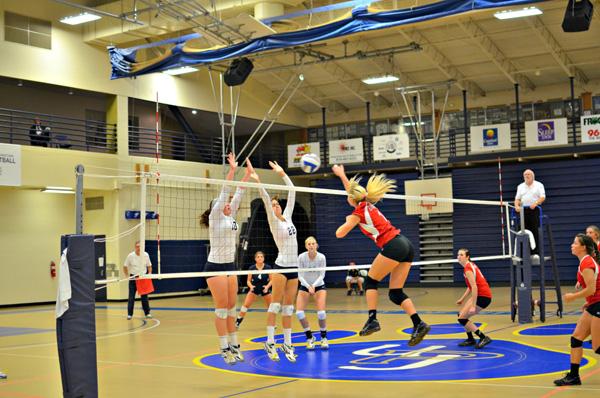 The Pitt-Johnstown women's volleyball team is off to an extraordinary start in their first year of Pennsylvania State Athletic Conference play.
The team has mounted a 9-4 conference record (15-6 overall) and won seven straight games before losing to Gannon University in five sets last Friday.
The Lady Cats lost only three sets during the winning streak.
One area of their game that has played a part in this year's success is their aggressive attack on offense.
The attack is led by freshman Marissa Erminio who leads the team in kills with 204 as of Oct. 18.
Erminio is also the first student-athlete in Pitt- Johnstown history to be named the Pennsylvania State Athletic Conference player of the week Oct. 15.
"I feel honored to represent Pitt-Johnstown, but I would not have been able to do it without my amazing coaches and team pushing me."
The 5-foot-10-inch outside hitter from Hopwood, Pa (Fayette County) has totaled 3.14 kills/set, a .195 hitting percentage, 2.48 digs/set and 34 blocks as of Oct. 18.
Erminio said it is no time to lay off the gas now after a fast individual start in her young collegiate career.
"Achieving this much my freshman year had me overwhelmed with excitement but it is not quitting time yet," she said.
"There's a lot more to come, not only for myself but for this team."
Junior outside hitter Kelsey Shanabrook is second on the team in kills with 179 as of Oct. 18 and led the team in kills last year as a sophomore with 270.
She led the team in a losing effort to Gannon with 14 kills and 16 digs and has played in six games this season where she had at least 10 kills and 10 digs.
"I think it helps my confidence knowing that I am contributing in that particular statistical category," Shanabrook said.  "Even though it is just part of my responsibilities on the team."
She said having a consistent team around her is what keeps her confidence strong.
"I have a great team around me to keep my confidence high," Shanabrook said.  "Knowing that they trust me and I trust them helps me become successful all around."
She also said that she feels the key to her team's success has been their interaction on and off the court and having a winning mentality for every game.
Shanabrook averages 2.84 kills/set, 3.21 digs/set, and has 37 blocks through 18 games.
The Lady Cats do not get all of their productivity from their outside hitters.  A decent portion of their kills come off the volley from the long arms of the middle hitters.
Not only does senior middle hitter Beth Kendera record a lot of kills but also her presence in front of the net is sometimes too powerful to defend.
Kendera is third on the team in kills with 152 as of Oct. 18 and also leads the team in blocks with 81.
"Being in the top three in scoring definitely builds my confidence and keeps me motivated," she said.
"The key is teamwork, we communicate well on the court and have developed chemistry."
The team was able to rebound later Friday night by defeating Mercyhurst University in five sets.
Erminio led the way for the Lady Cats with 29 kills, which is a career high and also added 15 digs.
The team then also split the doubleheader on Saturday defeating Slippery Rock in five sets and ended the crossover tournament with a loss to Edinboro University in four sets.
Erminio led the way with for the Lady Cats in kills in both games Saturdayx.