Runners adjust for championship race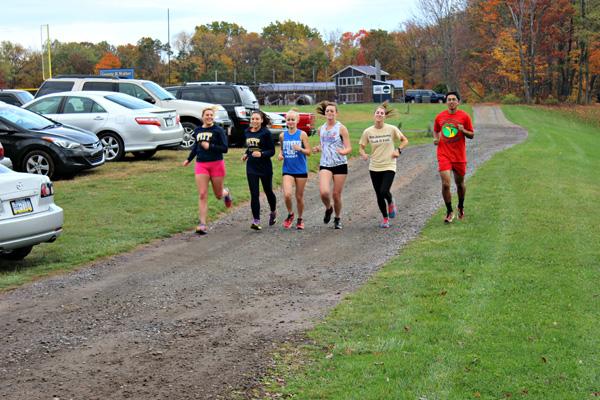 Pitt-Johnstown's men's and women's cross-country runners will have to wait a little longer to run in the conference invitational.
The runners were scheduled to compete at the Pennsylvania Intercollegiate Athletic Conference championships Sunday, but the competition has been postponed to this Saturday.
The championship also is to be held at Kutztown University instead of Slippery Rock University.
Sophomore Marissa Albert said none of the runners, men or women, have ever run on Kutztown's course.
She said she isn't worried because typically the host escorts the runners through a tour of the course's path.
"We get a good idea of the course and what to expect," she said.
Albert said she is nervous and excited to compete.
"It's one of the last chances for me to (post a personal record), and, hopefully, I'll be able to do that with the harder competition," she said. "There are going to be more people pushing me."
Albert said the women's team has improved as a whole, and she said thinks the team will be able to showcase their improvement with good times at the championships.
"We're all coming in close together during races, and pushing each other, so I think, if we continue to work hard this week and next week," she said.
"We all should be running our fastest times of the year."
Albert said the team has been easing away from the rigorousness of their training. She said the team does not want injuries this close to a major race.
"We're starting to taper down this week because we've been working hard and since we're already conditioned. We're trying to prevent injuries, so we're still going on long runs just the intensity of the training is starting to cut back a bit."
Albert said the courses they ran on this year in the new conference were similar to the West Virginia Intercollegiate Athletic Conference courses, but the new conference has tougher competitors.
"We have run some of the same courses, like Seton Hill and St. Vincent, but I would say we are in a more challenging division."
Albert has lead Pitt-Johnstown's team for the past three races, and she has placed within the top 20 runners in the last two.
She said she is hoping to continue her top 20 performances by making it her goal to be in the top 20 at the conference championships.
She also said she feels the team should finish relatively close together, giving them a chance to earn a fair amount of team points.
"If we all come in close together, like we have been doing, we'll be able to score more points," she said. "It'll depend on the competition."
Pitt-Johnstown's women's team has had some good finishes as a whole, with their best being a second place finish at the Pitt-Greensburg Invitational Oct. 5.
The men's team hasn't placed in team competition all year because there are only two runners who compete.
NCAA regulations stipulate that at least five men need to be listed on the roster in order for the runners to count as a team for competition.
As of now, Sophomore Anthony Nguyen and his brother, freshman Matthew Nguyen, are the only team members. They compete as individuals from Pitt-Johnstown.
Basically, this means the two can place individually, but their point contributions for team placement are void.
Anthony Nguyen said the men's team practices with the women's team, so his workouts are beginning to become more relaxed as well.
"We're tapering down," he said. "Everything is just mellowed down."
This season Anthony placed No. 12 at the Pitt-Greensburg invitational with an injured ankle, but he is not looking for a similar placement at the conference championships.
Although he said he is excited to compete against the new conference teams, he recognized that it is a very tough conference.
"PSAC teams are pretty big in the running world."
Anthony said his goal is to complete the 8k course in 30 minutes, which he said is a realistically achievable goal.
"It's do-able. I'm pretty close to it now."
Based on last year's championship times, Anthony would place around No. 100 out of 115. Anthony said if he's lucky, he might hit 29 minutes., which would place him in the 90s.
At the end of the day, Anthony said he doesn't care about the place; although, he would prefer not to be in the 100s.
"I'm going to run as hard as I can. I want to make it hurt. I want to feel like I want to pass out."
"If I hurt, I know it was good."