Brothers tighten bonds by running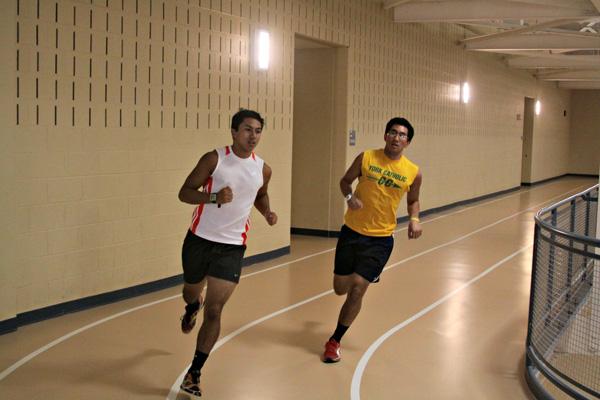 Pitt-Johnstown sophomore Anthony Nguyen and his brother Matt run down a dirt path winding through the woods, crunching leaves beneath their feet and heading in any direction they desire.
They call these adventure runs, and they are their favorite type of training, according to Anthony. He said they head out into the woods and just run wherever they feel like going, enjoying the nature as they go.
"It's not pre-meditated," he said.
Matt, a freshman, said they typically run for about 90 minutes each time, which they equate to approximately 10 miles; however, he said the main challenge isn't the time or distance they run.
"We like the challenge of not knowing where we're going," he said.
The two brothers are the only two members of the newly formed men's cross country team, and they are used to being building blocks.
Matt said it started back when they were kids. The brothers and one other boy started their own Cub Scout pack, which led to a Boy Scout troop.
"We're leaders for everything," he said.
The brothers run for both Pitt-Johnstown's cross-country team and men's track team. They ran in high school as well, but only Matt competed for the high school's track team.
The brothers also play on the same outdoor soccer team in the summer, but do other things together outside of sports as well.
Every night, Anthony drives Matt back to his off-campus apartment where they sit down to a stove-cooked meal, saying grace before eating. Anthony said it is the way they've always done it.
The brothers spend a lot of time together, either on campus or at Anthony's apartment.
Anthony said he invited Matt to run with him at the beginning of the semester and when they were finished, men's and women's cross country head coach Shane Valko added Matt to the roster.
Matt said he enjoys running with his older brother because he has someone he can look up to and chase after.
"He keeps me on track," he said.
Anthony said running with his brother is something that has helped make their connection stronger.
"It's an even closer bond, and even closer relationship," he said.
Despite being siblings, it seems there is some form of rivalry between the two. Matt said he feels he does better in track, but, when it comes to cross-country, Anthony is faster.
"I lost to him one time in my life," Anthony said.
Valko said the time he spends training the Nguyen brothers is always interesting.
"They are jokesters, but in a good way," he said. "They are extremely close. They joke with each other and are always smiling."
Valko said their close relationship directly relates to their chemistry as teammates. He said they are always together whenever he sees them.
"They feed off each other. They know how to push each other every day to get better," he said.
Valko said they are a crucial foundation to the newly formed team, and said he thinks they fit the role of building blocks and leaders.
"I think it's great," he said. "They are going to be two great leaders for the guys coming in next year."
Valko said he sees a lot of potential in both brothers as leaders and individually as runners. He said they have a good work ethic.
"They are getting better and better every day, so there is no clue how far they can go," he said.
At the beginning of the season, Anthony said he was still getting used to competing at a longer distance, but it seems that he has improved in this aspect since then.
At the Pitt-Greensburg invitational, both brothers ran in the race, and Anthony led the duo, taking No. 12 place with a time of 19:29. Matt finished No. 30 place out of the 43 runners competing.
Matt started his season slightly later than Anthony because he needed to be cleared to compete in the NCAA, but is still able to compete in the conference finals, since he ran in at least three conference races.
Last weekend's invitational in Erie, Pa. was their last regular season race, which now leads into the Pennsylvania Intercollegiate Athletic Conference Invitational.
Matt said he never thinks about winning races and isn't too concerned about the conference race, having other goals in mind.
"Just be better than my previous time," he said. "Always looking to improve."
Anthony said he has similar expectations for the conference invitational. He said he doesn't expect to win the whole thing, but wants to give his best effort and enjoy himself.
"I just want to go out there and run my hardest and get the best time I've ever gotten," Anthony said. "Go out there and have some fun with it."
No matter their places, at the end of the race, Anthony will be waiting at the finish line ready to hand his brother a water bottle as both brothers congratulate eachother on a race well run.