Only Homecoming game results in loss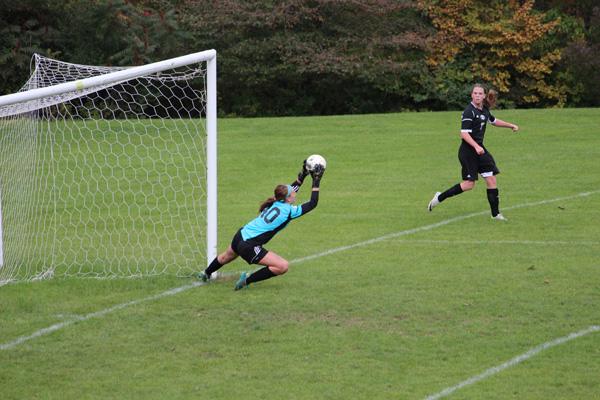 Pitt-Johnstown's homecoming ceremonies normally do not put emphasis on sporting events. This year, the only home game was played by the school's women's soccer team.
The Lady Cats played Slippery Rock University, the defending Pennsylvania Intercollegiate Athletic Conference champions, who also were ranked No. 24 in Division II heading into the game.
Approximately 75 fans from both sides sat on the hill and bleachers at the homecoming game.
The Lady Cats lost to Slippery Rock 0-4 despite homecoming and a filled venue.
The team is off to a rocky start, losing its eighth straight game since the start of the season. All seven games were conference games, so their 0-8 overall record is their conference record.
Junior Savanna Wingard said this has been a rough season for the team because of the tougher competition brought by the new conference, but the players are still optimistic while nearing the season's halfway point.
"The teams we are playing are bigger, faster and more physical than us," she said. "But we don't stop fighting and playing hard."
Wingard said the team has banded together and is trying to become more comfortable and successful offensively and defensively.
"Our goal is to stick together as a team, whether we win or lose," she said.
The team has struggled offensively all season. Senior Jackie Beccerra scored the only goal in a second half penalty kick in their game against Bloomsburg University.
"Rather than having one forward we now have three forwards," she said.
Wingard said the team has been implementing the new formation for the last few games. She said the team has also been working on new defensive strategies to combat the new conference's physical play styles.
"Our coach has been teaching us different techniques to help us," she said. "For instance, when defending we are supposed to physically step in front of the (opponent) when we're going one on one to try to win the ball easier."
In addition to the new formation, Senior Lisa Mix said the team is also working on their technique by practicing more shooting and crossing drills, hoping to create more scoring opportunities.
Mix said the team goes into every game with confidence because they are productive and work hard during practice.
"I think we can definitely turn things around this upcoming game and improve as a whole," Mix said before Saturday's game.
Mix said she felt excited about playing the only home game on homecoming weekend. She said it may bring in more people to watch and support them.
Wingard said she did not realize her team was the only one playing, and that typically homecoming sporting events are underrated. She said homecoming as a whole is not well-advertised, and she rarely attends events.
"I'm a commuter and my freshman year, I had no clue what even went on," she said.
Wingard said she would like to see sporting events become more popular during homecoming in the future.
"It would be nice if it was a bigger part of it."