Tryouts completed for newly built team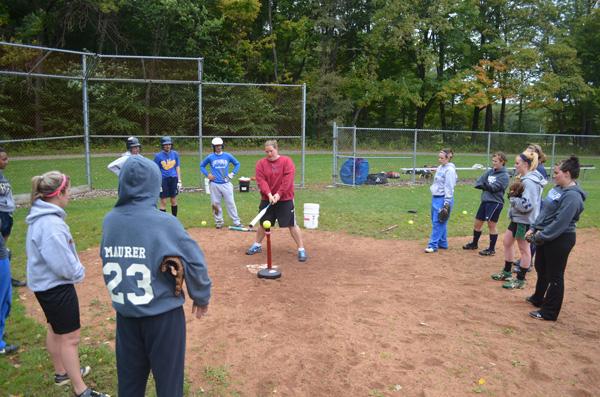 Pitt-Johnstown Athletic Department directors filled many coaching positions during the offseason, and one is to build the program from the ground up.
Athletic directors announced at the end of last year that Sabrina Lane would be creating a softball program and becoming the head coach.
Lane has acquired close to 10 years of experience coaching collegiate softball. She coached for a combined five years at Saint Francis University, three years at Saginaw Valley State University (University Center, Mich.) and was an assistant coach at Edinboro University for two years.
Lane is a mother of two daughters. She gave up coaching in the summer of 2011 after her oldest daughter was born.
During her time away from college ball, Lane coached at group clinics and provided private lessons in Johnstown and Altoona through ERA Sports Inc.
She received a call from Pitt-Johnstown Athletic Director Pat Pecora over the summer asking whether she would be interested in starting a team from scratch.
Lane said the call came unexpectedly, and she was hesitant to accept the offer at first, wanting to hear more about the opportunity.
"I wasn't planning on getting back into coaching until (the children) were a little older."
Lane said one of the big selling points that Pecora explained to her was that coaching at Pitt-Johnstown is a family-friendly environment.
Lane said the previous women's basketball coach Sasha Palmer told her the same thing before departing Pitt-Johnstown.
Lane said she felt reassured after hearing input from multiple coaches who have raised children in the environment.
While Lane is bringing a whole new program to Pitt-Johnstown, she could also be bringing in an awkward rivalry.
Her husband, Bill Graham is the head softball coach for Indiana University of Pennsylvania, a team that is close to Pitt-Johnstown and within the same division in the Pennsylvania State Athletic Conference.
Rivalries may be the least of Lane's worries, as she is slowly starting to form a team through open tryouts.
Lane advertised the tryouts last year and at the beginning of the semester through campus-wide e-mails. She said around 30 people signed up, and 15 or 16 showed up for the tryouts.
Lane said she was a little nervous with athletes appearing from different ranges of their academic careers. She said she was uncertain how long it had been since some of them had played competitively.
"I was pleasantly surprised with what I saw," she said.
Tryouts ran throughout last week, ending last Saturday to conclude the team's final roster. Lane said her goal is to find 11 or 12 women ready to be committed to the team and the hard work to come.
There is one constant. Over the summer, Lane signed her first and only high school recruit.
Lane said it was late notice to start recruiting, but she was lucky to have freshman Amber Maurer, a Greater Johnstown Area High School graduate, join the team as its first member.
Maurer said she decided on Pitt-Johnstown because of the proximity to home and also the chance to be the first softball player at Pitt-Johnstown.
"I feel honored considering this is the first time in UPJ's history for a softball team," she said. "And, knowing I was the first player to sign is an amazing feeling."
She finished her high school career with a .456 batting average, a .500 on-base percentage and a .614 slugging percentage.
Maurer said she hopes to bring the same level of offensive talent to Pitt-Johnstown, but she admitted it will not come easily.
"I believe that it will definitely be a challenge, considering it's a new and higher level for me," she said. "But, If I put my mind to it, along with all of my hard work and dedication, I know that it will pay off both offensively and defensively."
Lane said Maurer is a great student-athlete and considers her to be a good foundation for the team.
"She's everything you're looking for in a recruit," Lane said.
Maurer said she feels honored to be a crucial team member, and it provides her with extra drive.
"This makes me want to work harder, so I can influence other players to love the game more and eventually step up and become leaders as well."
Maurer has been working alongside the other athletes who are trying out for the team. She said she is impressed with the new members.
"A majority of them seem like they've had previous experience, which is great," she said.
The team is scheduled to compete in a shortened season to cope with their fresh roster. Lane said they need to compete in at least 24 games to be added to the conference next year.
She said she is trying to schedule approximately 30 games this season with additional fall tournaments as well.
Lane said that she plans on taking the team to compete at a tournament Sept. 28 at Pitt-Greensburg and Oct. 12 at Penn-State-Altoona, where they will face off against Division III schools.
Lane said the tournaments will help gauge where the team is to start  its inaugural season and to make sure the players can work well as a team.
"It'll be a good guideline come spring," Lane said.
Lane said she also plans to work the maximum amount of hours allowed by NCAA regulations in the offseason to help prepare for their season as well.
Lane said one important goal she also wants to accomplish by the season's end is to spread the word about the newly formed team in the hope of finding more recruits for next season.
"We need to be doing as much as we can to get the word out that UPJ has a softball team."