New coaches take on new conference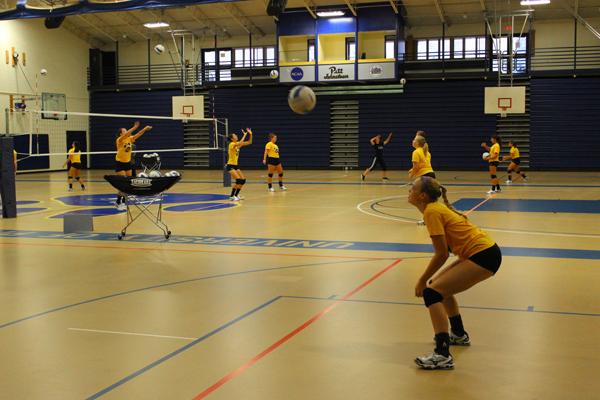 Pitt-Johnstown's women's volleyball players participated at a tournament Friday and Saturday in Fairmont, ­W.Va., marking their first game under new Head Coach Joanna Haupt.
Haupt said she and her husband, assistant coach Justin Haupt, have been implementing a lot of changes since the departure of previous head coach Linda Renzi.
"It is definitely very exciting for both of us," Joanna said, "The girls have been very receptive to (the changes.)"
Sophomore Marina Pecora said one thing that changed was the team's willingness to work together as a unit.
"We are no longer a bunch of separate players this year. We've come together as a family, and it shows on the court," Pecora said.
Senior Ashley DiRado said the adjustment to the new coach went easier than she anticipated, and the coaches' adjustments have made the team stronger.
"They have high expectations of us because they know we can reach and overcome them," DiRado said. "We needed that push."
Joanna said she thinks the team has playoff potential, even with the new conference's heightened competition.
"I feel as though many teams are underestimating our talent," she said.
Pitt-Johnstown joined the Pennsylvania State Athletic Conference this year and received a sixth place ranking in the preseason coaches' poll, which Pecora said she is confident the team will achieve this ranking by the end of the season.
"I think we will definitely live up to our ranking and also have a very high possibility of surpassing it if we continue to improve game by game and learn from our mistakes."
Pecora said the team is not flawless and will need to work on a few things throughout the season to become a superior team.
"We still need some work on our execution. The skill is there, but we just have to work on consistency, and that will come along as we play more."
The players will have a brush with the past to start the season, playing teams from the disbanded West Virginia Intercollegiate Athletic Conference in which Pitt-Johnstown previously competed.
Most schools from the previous conference (all of which are from Ohio and West Virginia) collected and created their own conference, The Mountain East Conference.
Fairmont State's "Falcon Fest" Tournament started Saturday with games taking place until Sunday, with the last game at 4:30 p.m.
The volleyball team was to play four games overall. DiRado said she and her teammates feel confident heading into the tournament.
"I have a good feeling we will come out with four wins."
Joanna said their toughest competition would be Fairmont State. She said the team would need to continue to use their chemistry and co-operation to their advantage.
DiRado said Fairmont State was a strong and competitive team last year, and the other teams will be challenging in different ways.
"I think we all want to show them how much we have improved," DiRado said.
Pitt-Johnstown swept West Liberty University (W.Va.) in their first game on Friday. They then lost their first set to West Virginia Wesleyan University, before taking the last three sets for the win.
Their toughest opponent was Fairmont State University. Fairmont State won the first two sets, but Pitt-Johnstown took two of their own before losing the last and final set.
Despite the defeat, the players swept their final opponents from Ursuline College (Ohio).
Leaving the tournament, the Lady Cats have a 3-1 record heading into another tournament next weekend at Shepherd University (W.Va.)