UPJ students explore local fishing spots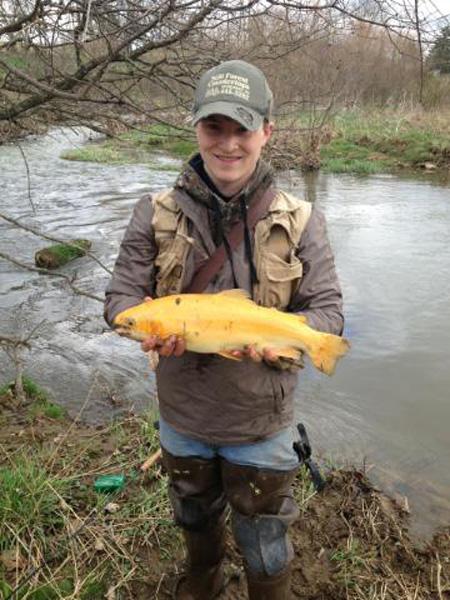 Trout season started Saturday, and some Pitt-Johnstown students are hitting popular local spots along with some secret ones.
Pitt-Johnstown sophomore Keaton Voeghtly said there are many spots people overlook because there are not any trails leading to them, or they are slightly more vegetated.
"I find them through hiking and exploring."
Voeghtly is a Geistown resident, and seems to know everything there is to know about fishing nearby.
Voeghtly said the game commission is stocking the standard variety of trout this year- brook, rainbow and golden rainbow (palomino).
Voeghtly, a year-round fisherman, has had a fair share of good seasons, including good turnouts in the last couple years.
"I did really well last year," he said. "I caught 107 trout (last April.)"
Voeghtly said he had some big catches in the area as well. Last spring, he caught a 22-inch rainbow trout and a 17.5-inch brook trout.
During other months, Voeghtly said he fishes for catfish, bass, and the occasional carp, but trout season is his favorite.
"This is like Christmas Day of fishing," he said.
Voeghtly said his entire family enjoys opening day by picnicking with a menu consisting primarily of their catches.
Pitt-Johnstown sophomore Brooke Kennedy said she'll be enjoying fishing at the pond behind her house in East Freedom, Pa. or visit Canoe Creek State Park, east of Hollidaysburg, Pa.
Kennedy said she has been fishing since she was 4, and the recreation has been a time of family bonding.
"Me, my dad, my brother and sister," she said. "All of us."
She said she likes fishing for almost anything, and her biggest catch was a 12-inch catfish while night fishing at Raystown Lake in Huntingdon County.
"My favorite trout to catch is a brook trout."
Kennedy also fishes with her friend and Pitt-Johnstown junior Rylan Schnably. She said she is not sure what their spots are called, and that they just fish at any spot that looks legal.
Voeghtly said there are a few popular spots close to campus.
Bens Creek borders Golf Haven, a driving range, along the Somerset Pike, which is close to a 15-minute drive from campus. Voeghtly said he caught a 19-inch brown trout in January at the creek.
He also highlighted a creek behind a BP gas station and the Kidsport youth soccer field as being widely popular.
"Popular places are under bridges."
Voeghtly said he plans to fish Tuesday and Thursday since he does not have classes on those days, but there is still a chance to fish for those students who miss opening day.
He said, typically, Bens Creek is stocked a few times throughout the season, and once during Pitt-Johnstown finals week.
Twenty Somerset creeks are scheduled for stocking and restocking, and information for these dates and areas is available on the Pennsylvania Fish and Boat Commission's website.