Faculty beat students for good cause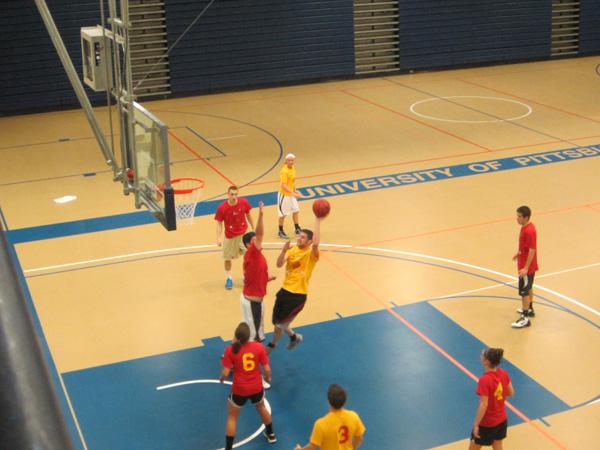 Both faculty and student athletes took part in an annual charity basketball game last Thursday at the Sports Center.
Attendees were required to make a $2 donation to attend the event, and all proceeds went to the Make-A-Wish Foundation, which grants wishes for terminally ill children.
"I thought the event went really well," Pitt-Johnstown senior Kevin McDonald said. "I thought we had a really good crowd, and it was a good game for a good cause."
The game was also dedicated to the Seton Hill University lacrosse team, for they were in a horrific March 16 bus crash that killed a pregnant head coach and the bus driver.
"The game was for the Make-A-Wish Foundation, but it was great that we could do something for other than the Make-A-Wish Foundation."
The teams' jerseys in the charity game were themed with Seton Hill University colors red and gold.
Former Pitt-Johnstown Assistant Athletic Director Nikki Babik was honored at halftime due to her connection to Seton Hill and her time working for Pitt-Johnstown.
Babik is now the Assisant Athletic Director for Compliance at Seton Hill, and her shirt was signed both by the student and faculty athletes who participated in the game.
Athletic Trainers Scott Mamula and Elissa Till were also honored at halftime with T-shirts for their contributions throughout every sports' season.
A total of 12 students participated, including senior basketball players Nick Novak, Jordan Miller and Maria Montini.
A total of 11 faculty members participated, including Jamal Palmer, Sasha Palmer and Patrick Grubbs.
The student athletes that participated were pooled from various sports. Two players were from almost every sports team.
The staff and faculty's team consisted of coaches from different sports, professors and staff from both the athletic and administrative offices.
Pitt-Johnstown's Finance and Administration Vice-President Amy Buxbaum said this is one of her favorite events of the school year.
"It is all in good fun, and, most importantly, it is for a good cause," Buxbaum said. "Pitt-Johnstown has a wonderful tradition of supporting Make-A-Wish and of really showing up."
The faculty defeated the students (77-64) and had a steady lead throughout the game. The faculty won last year's game as well.
Patrick Grubbs has played on both teams now after playing on the faculty team for the first time this year. He was a student player the past two years.
"The game itself is a great time," Grubbs said.  "I am finally playing for the staff for, and I am happy the staff got the win this year."