Prolonged winter causes aches for teams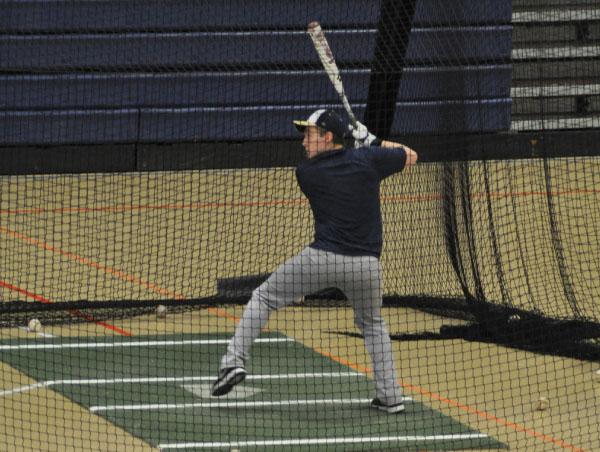 Johnstown's winters are something some people can get used to, but, for athletes who anticipate playing in beautiful weather, these winters are a nightmare.
The baseball team was greeted by snow before their game Thursday against Glenville (W.Va.)State College.
The Mountain Cats went on to win the game 7-0, but junior Kyle Morrow said the weather has been a constant nuisance.
Morrow said the team has played most games in temperatures averaging 25 degrees.
"That makes the muscles cold, which (makes it difficult) when we have to sprint around the bases."
Morrow said the cold climate has increased  injuries involving muscles.
He said there is an abundance of pulled muscles and sore arms from the cold, and it is harder to get warmed up and stay loose.
"(These) injuries probably wouldn't have happened if it wasn't cold out."
Postponed games also create a problem for the team because there is not a makeup week available this season.
"We have to get every game in," Morrow said. "If we don't, we have to play seven games in one week."
Morrow said their home field is not a concern because it is artificial turf that can be plowed easily in the case of a snowstorm, but the weather still causes mental disruption.
"This is not baseball weather. This is football weather."
The baseball team is not the only team to have problems with Johnstown's difficult climate.
Pitt-Johnstown's women's track team also started their season with difficulties posed by the colder climate.
Sophomore Erin McMahon said the weather has been a disadvantage to the team's athletes and has had a negative impact on their start.
"We haven't been able to hold a full practice outdoors yet this season and have already had a meet."
Pitt-Johnstown does not have a legitimate indoor-track-practice home, and McMahon said this is a key reason they have not been able to perform at their best.
"The jumpers and hurdlers haven't been able to practice at all yet, so the weather is just posing a huge challenge."
The track team has also experienced some minor injuries and pains due to their efforts working out indoors.
McMahon said the prevalent injury on the team is shin splints that have been caused by running on treadmills almost every day.
"I think all the girls have had shin splints for months now," she said. "I don't remember the last day we all left practice without anyone having bags of ice wrapped on their legs."
McMahon said she is glad that the injuries only go as far as shin splints and have not graduated to more serious injuries.
McMahon said she is optimistic about the team's outdoor season, despite the setbacks caused by weather.
"We just have to work even harder, but are still proving to be strong competitors regardless of the disadvantage of the weather."