Wrestlers stay hot going into regional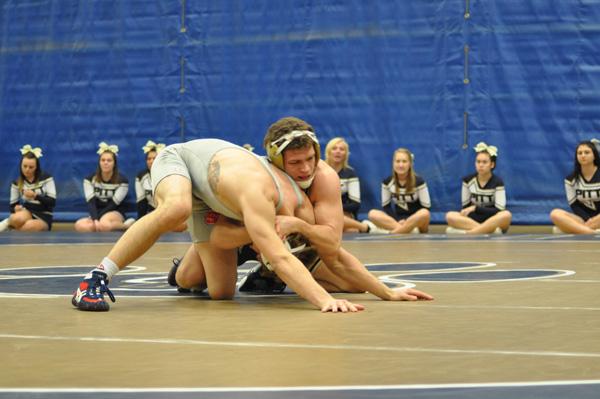 Starting the season with a 1-2 record, Pitt-Johnstown wrestlers won their last 14 matches to close the regular season.
The team now boasts a 15-2 record, and ranks fourth nationally in Division II with two wrestlers, junior Travis McKillop and junior Dave Cawley, ranked nationally in the top eight of their weight classes.
Pitt-Johnstown is closely followed by fifth ranked Newberry (S.C.) College. The Mountain Cats pulled off a 21-14 upset win over Newberry Jan. 25 at the Super Region I Duals.
Pitt-Johnstown went into the match ranked significantly lower than Newberry, but was able to win the match with five bouts won by decision and received crucial bonus points for Cawley's pin.
Other hard-fought wins came against other ranked teams, such as University of North Carolina-Pembroke and Mercyhurst College, which were ranked No. 20 and No. 13. The match against Mercyhurst was decided by only 5 points.
Pitt-Johnstown won their final regular-season match against Shippensburg University with a 26-9 score.
The Shippensburg match was also Pitt-Johnstown's senior night match.Seniors Keith and Kevin Ryan and Glenn Winslow are set to graduate this year.
Keith Ryan was the only senior to start during the match. He lost his match by a close 5-4 overtime loss.
Although Keith lost his final home match of his Pitt-Johnstown career, McKillop said has had a great year.
"He has a new attitude, a great work ethic, and he is definitely going to achieve his goals."
Assistant Coach Shane Valko said the team's success has solidified the wrestler's resolve this year to become dominant.
"On paper it looks like a dominant year, but we had a lot of ups and downs this season."
Valko said the team's lineup has looked good top to bottom all year, and looks even better now heading into the regional tournament.
"We need every one of them to wrestle their best to win a regional and national title."
The Mountain Cats are to travel to Kutztown University Friday to attempt to take the regional title in a two-day tournament.
Valko said their chances are good for winning the regional title.
"We have to wrestle a great tournament and get bonus points."