Fighters aim to become a club sport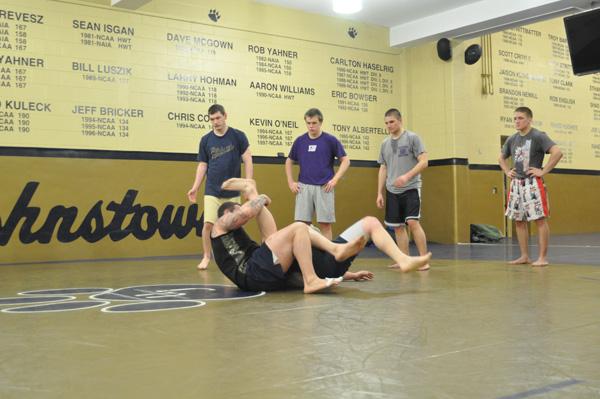 Another club sport maybe in the works at the University of Pittsburgh at Johnstown as those involved with mixed martial arts attempt to enhance its campus presence.
Shane Valko (an assistant wrestling coach at Pitt-Johnstown) teaches mixed martial arts techniques in Tuesday and Thursday sessions at the Sports Center.
"We are just trying to turn [the class] into a club sport and I am hoping it will take off here real soon," Valko, a former Pitt-Johnstown wrestler, said.
Valko was a three-time All American and won the 2010 NCAA Division II National Championship in his weight class.  Valko finished ninth on the All-Time Wins List at Pitt-Johnstown.
Valko uses his wrestling expertise to teach students along with two other instructors John Moore and Jason Dignan.
"I'm very impressed by the [students]," Valko said. "They are really picking up on the jiu-jitsu really well since November."
The class has been relying on word-to-mouth communication since the beginning the fall semester.
The class ranges from six to 10 students from 7 to 8:30 p.m. Tuesdays and Thursdays.
The necessities required to become a club sport are to have at least 10 students who have a 2.0 or above GPA.
Student Andrew Peck is to take responsibility for paperwork to become a club sport.
"We will be taking the top four students [to be] president, vice president, treasurer and secretary."
Peck spoke with high hopes for future if the day comes when it becomes a club sport.
"We are going to [try and make it] an academic club and possibly offer scholarships," Peck said.
"If the 10 people that [join the club] all have a QPA over 2.0, we can have academic scholarships."