Hockey team seeks to avenge losses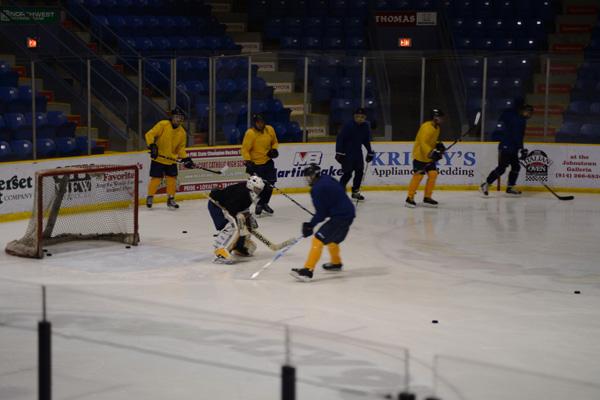 Pitt-Johnstown's hockey players know what it's like to be on the brink of a national championship berth. Last season, they got one game short of a ticket to the national tournament.
The Ice Cats look to win their last two regular-season games on their schedule, which are Friday against Indiana University of Pennsylvania and Saturday against Pitt-Greensburg, so they can receive a better seed in a regional tournament, where success could lead to the national tournament.
The team had a tough run two weekends ago when they played three games in Philadelphia. They lost all three games against Penn State-Brandywine, Richard Stockton University and Neumann University.
Sophomore Troy Schall, winger, said the team did not play as anticipated, but should still make the regional tournament.
"Injuries had a lot to do with it," Schall said, "We had a hard time putting the puck in the net."
The team also lost  its last conference game Sunday 6-2 against California University of Pennsylvania, which was also their last home game.
Even though the team has posted a 16-10 season so far, the Ice Cats could not do so unscathed. Junior David Kutzer, team captain and forward, is one of four players who are unable to compete.
Three, including Kutzer, are out for injuries, and one player is out because of grades. All four of these players played on the first and second lines. This does not include the injuries from the Philadelphia weekend.
Schall said he thinks the injuries have encouraged those uninjured to work harder because they know their injured teammates would do anything to be playing.
"We know those guys would kill to be on the ice with us."
Kutzer said the players have answered the call to step up. He highlighted sophomore center Bryan Albright, sophomore defenseman Derek Grove, and Schall as players who have done a lot to pick up the team's pieces.
"Grove, Schall and Albright have been putting up points like there is no tomorrow and Grove and (Anthony) Pioli have been playing very well defensively."
All three are listed as the league leaders in goals, assists and points. Also making the list is junior goaltender Dave Dunkleberger with 4 wins and a .897 save percentage, although he is lower on the list.
Junior defenseman Pioli has taken the promotion from assistant captain to captain for the duration of Kutzer's injury because, according to Kutzer, they needed a captain who was going to be on the ice.
"It is definitely a different feeling wearing the 'C'," Pioli said, "I will try my best to do as good of a job as David, so, when he comes back, nothing has changed."
The Ice Cats are beginning to look toward postseason play.
First, they compete for a league title, which will affect seeding for the regional tournament.
They are second in the College Hockey East League, but could be knocked into third by California University of Pennsylvania. Robert Morris University is in first place.
The last time Pitt-Johnstown won the league championship was in the 2004-05 season. Since then, California University of Pennsylvania has won the championship every year.
Pioli said it does not matter because the third-and second-ranked teams in the league play each other anyway, so Pitt-Johnstown most likely should play California university in the first round of league playoffs.
"That would be a huge upset and accomplishment if we could knock them out."
The regional tournament's information has not yet been announced, but information from last year's tournament point toward the tournament taking place in February.
Kutzer said the team should see both league rivals, and also see other tough competition because it includes teams in other areas.
"The tournament is big because it consists of teams all along the coast, not necessarily in our league."
Toward the season's end, the 15 teams' coaches are to meet and rank the 15 teams in the Atlantic Division. The top 10 teams ranked by the coaches will advance to the regional tournament.
Out of the 10 teams, the first-and second-ranked teams have an automatic bid to nationals, and do not compete in the regional. This leaves two spots open for the regional tournament finalists.
The Ice Cats are hoping to be part of this tournament, but first they'll look to win a league title, which should add some extra momentum into their other postseason goals.
Pioli said he does not want the players getting too far ahead of themselves because they still have a lot of work to do.
"We don't even want to look past a game, so our goal is to win each period of a game. If we do that, then we will come out with the (victory.)"