Wrestlers get vengence over Ashland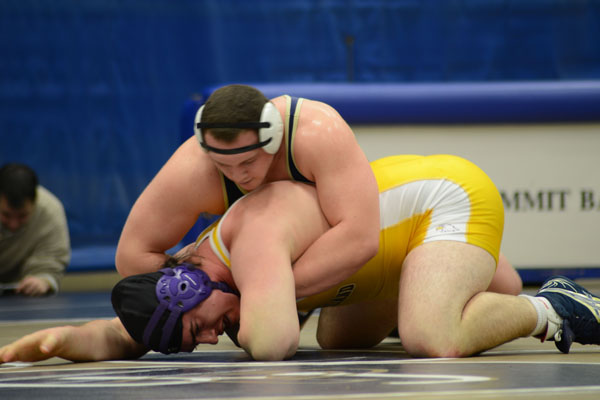 NIck Roth, Contributing Writer
January 23, 2013
Head Coach Pat Pecora and the Mountain Cat wrestlers extended their winning streak to six with a win Friday night over Ashland University (Ohio).
During the winning streak, the Mountain Cats have outscored opponents 192 to 55.
The Mountain Cats were ranked No. 11 nationally, but Ashland, too, was ranked No. 16 in NCAA Division II.
Ashland suffered a loss to Lake Erie Tuesday, but the Eagles have beaten the Mountain Cats the past two seasons.
With last year's loss fresh in his mind, Sophomore Travis McKillop said, UPJ Wrestlers wanted to dominate the match, and show that hard work had paid off.
"They have a couple kids ranked in the nation, but we do too, and we work hard, so we just have to get after it."
Both McKillop and Evan Link said putting in hard work daily and running coach Pat Pecora's system are keys to winning.
McKillop described Pecora's system, "Attacking at all times, never taking a break, always pushing and looking to score points."
Ashland took an early 7-0 lead after winning both the 125 and 133 bouts.
Although, Link lost in a 4-6 decision, he set the tone for the match, wrestling aggressively and not backing down from Max Byrd who is ranked eighth in the nation in the 125-weight class.
After losing the first two matches, junior Dave Cawley won 18-0 in a second period technical fall.
Junior Jack Bachman followed with a 9-0 major decision to give the Mountain Cats the lead 9-7.
The Mountain Cats never looked back, after taking the lead.
At 157, sophomore Joel Paolo earned a late third period escape to pull out a 1-0 win.
Senior Keith Ryan and junior Gary Lantz extended the lead to 24-7 after back-to-back pins in the second period.
At 184, McKillop sealed the team victory with a 5-0 decision, putting the Mountain Cats up 27-7.
Redshirt freshman Nikos Garafola, lost 3-8 against Ashland's Joe Brandt, who is currently ranked third in the nation at 197.