Only one starter missing from team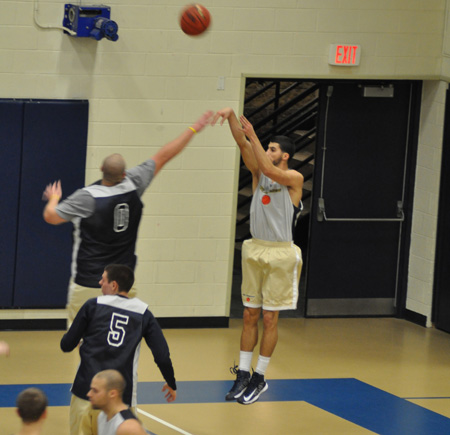 Pitt-Johnstown men's basketball team is preparing its last season in the West Virginia Intercollegiate Athletic Conference.
The Mountain Cats are to enter the Pennsylvania State Athletic Conference next season and are to face teams like Indiana University of Pennsylvania, which reached Division II national basketball finals two seasons ago.
This year's team has four returning starters. The only starter lost from last year though, Patrick Grubbs, was Pitt-Johnstown's all-time leading scorer and rebounder.
"It will be hard to replace Pat, but we have the tools and coaching to be very successful," Bill Luther, a starting forward, said.
The team had a winning season last year by one game and finished seventh of 15 in the conference's final standings. The Mountain Cats are projected to place eighth this season in the West Virginia conference's preseason coaches' poll.
West Liberty (W. Va.) University was picked by the conference to win for the fourth straight year, after coming off a 32-2 season last year and making it to the national tournament's quarterfinal round.
The Mountain Cats are to started the season against Bloomsburg University Saturday Nov. 10, which they won 70-58.
"The team is looking real good this year and I think they have the potential to finish in the top five in the conference," team manager Travis Crump said.
The team also gained four freshmen recruits, each over 6-feet tall, who are to play guard.
The team also gained one transfer, Drew Cressler from Seton Hill University.
"Drew Cressler will bring experience and talent to our roster," Luther said.
The Mountain Cats also look to use senior Nick Novak, a returning first-team all-conference guard, should provide the team with leadership. Novak is also a 2012-2013 Basketball Times preseason all-American.
Novak made nearly 40 percent of his field goals, which ranked 17th overall in the NCAA Division II.
The team hopes to start where they left off last season, with Luther making almost 50 percent of his three-point shots.
He is the fourth all-time leading Pitt-Johnstown scorer entering this year and third in rebounds with an average of 3.4 per game.
The team has its first home game Nov. 13 against Penn-State Altoona. Having students in the crowd is a big thing for the team, according to Luther.
"We want students there to cheer us on and give us support," Luther said. "
When students show up, it gives us a home court advantage, which could be crucial in a big game."