Hockey players check, glide, fire toward goals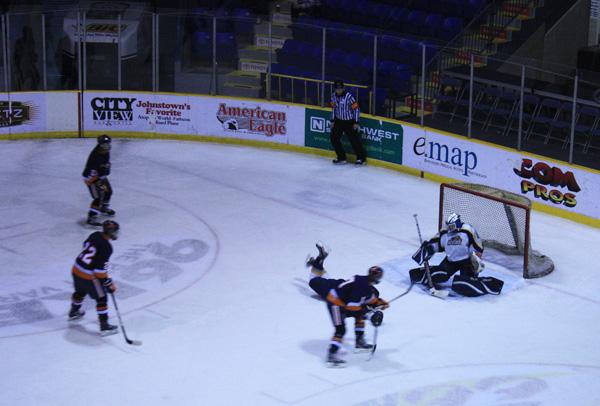 UPJ Ice Cats are off to a strong start this season with a 7-5 record.
The team traveled to Albany, N.Y., the first weekend of November to play in a college showcase and won all three of their games.
"Things are looking up right now," said junior and starting goalie David Dunkleberger.
According junior  Dustin Wirick, the team should be a respectable team within their conference.
"We are a very dangerous team because we work hard and have a lot of depth in our line up."
Dunkleberger said once the young team gains experience, they will develop into elite players.
Senior player Chris Vargas agreed that the team has potential.
"We have a lot of talented returning players and a lot of promising freshmen," he said. "As a team, though, we need to work on staying out of the penalty box and continue to stay disciplined."
Wirick said Robert Morris University and California University of Pennsylvania are the toughest teams in their division.
"We always come ready to play against them and the games are always great, hard-fought games," he said.
On Nov. 8, the team lost to Hope College (Holldand, Mi.), the top-ranked team in their division, by only one goal.
The team's next home game is 7:45 p.m. Nov. 30 at the War Memorial. They are to play Penn State-Behrend.