Lady Cats begin championship prowl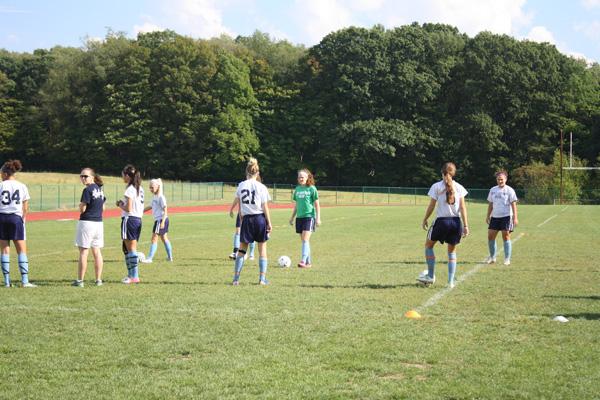 Last Wednesday Pitt-Johnstown's women soccer players advanced their team's record to 11-4 and look to focus on their two remaining games and a conference tournament.
The team beat Point Park University Oct. 10 in Pittsburgh 4-2 last Wednesday for their 11th win, and bringing the team to a .733 win percentage.
Senior Captain Gena Pentz said chemistry contributed to a portion of their success this season, and is excited about the winning season.
"I am extremely proud of the entire team. We have come a long way. [The women] this season are finally clicking."
Pentz said the has been similar to a family, and that she has confidence players will win a conference title as long as they keep playing like a team.
"This chemistry is helping us on the field, and, each game, we try to improve and fix our faults."
Pentz said Head Coach Jim Herlinger left the team early in the season on medical leave, and has not yet returned.
Pentz said she is unsure of Herlinger's situation or condition.
"We all wish him the best and hope he gets well soon."
In Herlinger's place, Ali Afshar took over the head coaching role, aided by assistant coach Jess Phillippi.
This year was Afshar and Phillippi's first year as Pitt-Johnstown coaches, both starting as assistant coaches.
Pentz said Afshar stepped into the head coaching role in stride and continues to contribute to the team's success.
"He has turned our season around. The positive attitude, the drills and constantly trying to improve our game has made us the team we are."
Sophomore Janna Stoup said the last games will not be easy wins, and that playoffs should be even more competitive.
Stoup has played a crucial role offensively, and has individual statistical rankings to prove it. She is ranked in five Division II national categories. The rankings are based on regular season games until Oct. 14.
Stoup is tied for second for game-winning goals with 6 goals. She ranks 18th in points per game with 2.07 and is tied for 16th in total points with 29.
Stoup also averages one goal per game, tying her for eighth place and is fourth in total goals with 14 goals.
Sophomore Goalkeeper Timi Shiock is also nationally ranked. She ranks 22th in save percentage with .878 and 30th in total saves with 100.
Stoup said the team has continues to focus on basics, so they can focus on more challenging aspects as the playoffs get closer.
"If we play as a team and keep working hard, we could definitely go to the championship round."