Athletes tussle to assist awareness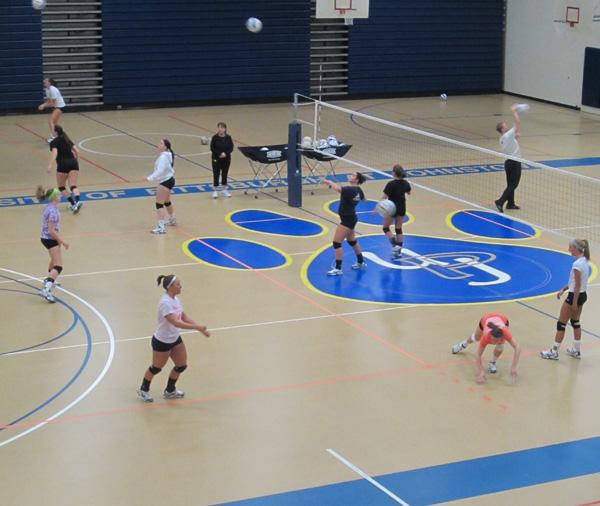 Breast cancer-awareness games are becoming a yearly occurrence that some Pitt-Johnstown athletes are now accustomed to.
Pitt-Johnstown's women's soccer players hosted their breast cancer-awareness game Oct. 6 against Alderson-Broaddus (W. Va.) College at the Richland Senior High School field.
Junior Lisa Mix said the game was anticipated to be tough, and that the 1-2 loss came from a second half breakaway goal.
On the sidelines, the players set up and ran a baked goods sale inside a tent offering items made by players and family members.
Athletic Department staff members also aided in the bake sale.
There was a halftime penalty kick contest that cost $1 to enter, and more than 10 people tried their luck scoring on second goal tender Rebecca Schultz.
Mix said a couple of contestants succeeded and were rewarded with an "Advocate for a Cure" T-shirt.
All proceeds from the baked goods and contest went toward the Joyce Murtha Breast Care Center at Windber Medical Center.
The players wore pink jerseys, socks and other accessories to symbolize their support for the cause.
Mix said there was a good number in attendance who wanted to support the awareness and the players who, as a team, have put together a winning season.
"We had a lot of students there because they wanted to support and watch us continue to win, and also a lot of families attended to donate money."
Women's Volleyball is to host a breast cancer-awareness game Oct. 23 in Pitt-Johnstown's Sports Center against Point Park University, Pittsburgh.
Breast care center volunteers are to be at the game selling pink pumpkins and handing out informational literature.
There is to be a bake sale concessions and a serving contest that will be between games in order to gain additional proceeds.
On the court, the players plan to sport pink shirts and accessories to show their support for the cause.
Senior Kayla Petrilla said that in the past, breast care center volunteers, handed out pamphlets, pencils and trinkets.
She said they are probably going to bring the same type of things again, but some handouts may change.
It is intended that the breast care center receive 100 percent of the proceeds from the activities and concessions.
Petrilla said she has experienced a family member who needed to be checked and tested for the disease.
She said it was those instances that opened her eyes to the reality of the situation, and how easily it can affect people's lives.
"It increases my drive because if someone I loved was ever diagnosed, I would hope there was something that could be done about it."
Petrilla said last year's turnout was good, and she anticipates a better turnout this year because Point Park should have more fans coming due to their proximity to Johnstown.
"I hope we get a great turnout from students and the community, so people can learn more about this disease that has touched most of our lives."