Class delivers competitive workouts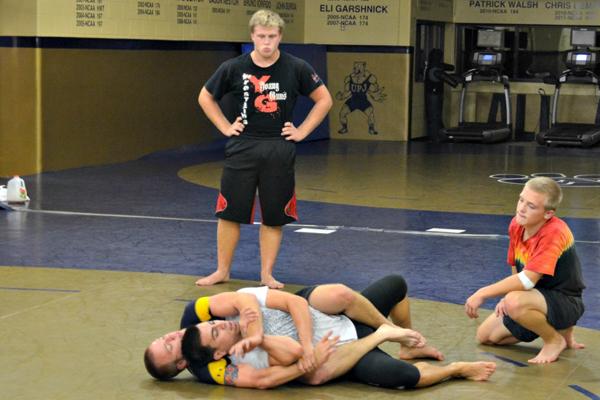 At 7 p.m. last Thursday the sound of patter and music escaped Pitt-Johnstown's mat room as Shane Valko's mixed martial arts class members started with a grappling session.
Two groups of paired wrestlers continued in a tangled mess of limbs, while Valko took a moment to enlighten a few on the finer points of transitioning from a triangle choke hold to an arm bar.
The class has eight members and two assistants. Fighters work on multiple forms of fighting including boxing, wrestling, judo and jiu-jitsu.
The class costs $30 a month or $5 for one session. Sessions are held twice a week.
Valko specializes in teaching wrestling, while assistant John Moore specializes in boxing and assistant Jason Dignan specializes in jiu-jitsu and judo.
Valko said he hopes to reach 30 people this year, and not just men who are wrestlers and fighters.
Valko said he would like to see women and older adults seeking self-defense techniques from the class.
Valko said mixed martial-arts' growing popularity and full body workout should provide a good class.
Valko said he got the idea to create the class only weeks ago, and, since then, word of mouth has spread to build the number of members.
Valko intends to post fliers around Pitt-Johnstown's campus to gain more members.
Valko said his intentions were to create a gym that would have competitive workout partners who would push each other.
"I wanted a gym that has elite athletes."
The class is structured loosely with a sparring sessions interrupted only by Valko or another instructor when an individual needs an example or explanation.
Valko said he originally was looking to conduct workouts for himself to further his own career as a fighter, but realized his efforts could be worth teaching to others.
Junior Pitt-Johnstown wrestler Johnny Walylko has been fighting for three years.
Walylko said he began wrestling last year as a sophomore, and had to transition to wrestling from his fighting mentality.
"I love fighting. It keeps me out of trouble."
Walylko trains with assistant coach Jody Strittmatter's Young Guns as well as with the wrestling team and Valko's mixed martial arts class.
"I would be a mess if I didn't have anything to train for."
Walylko said he tracked what Valko was doing, and decided to join Valko and Moore in training sessions before Valko started the class.
Walylko said the loose structured workouts are helpful for individual growth and development by training on weaknesses.
"We train what we feel we need to work on."
Walylko said Valko is relatively new to mixed martial arts, but that there is always something new that he learns from him.
Walylko said Valko provides a wrestling mentality that provides intensity and motivation.
Once the wrestling team begins its season and uses the mat room regularly, Valko said there may be a few conflicts with the class time.
Valko said the class should not interfere with the wrestling team's scheduled practice as it is to be either before or after the practices.
Valko said he would worry about these conflicts as they come.
"Right now, we're going day-by-day."
Valko said, for the time being, he plans to focus mainly on the members he has so far and expanding to gain more people who are interested in mixed martial arts.