Maniacs missing madness at events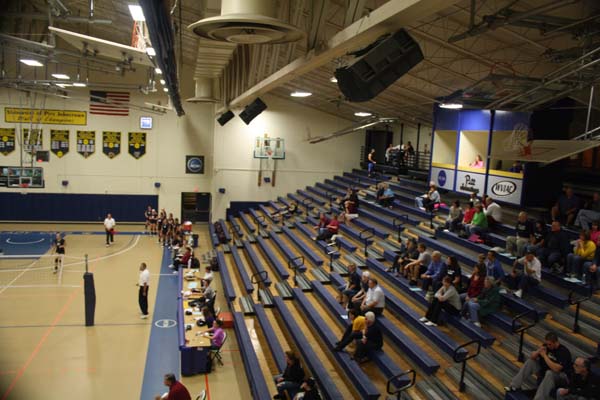 The student fan section at Pitt-Johnstown is called the Mountain Cat Maniacs, but they have not shown any sign of being crazed as the name might suggest.
"The Maniacs need to pump up the student section, just as the Panther Pitt at Heinz Field has done this fall," said junior Corey Rook.
Fan attendance is decreasing in some sports, and some players said they have noticed.
"I believe last year more students… especially student athletes showed their support for us," said Pitt-Johnstown senior volleyball player Kayla Petrilla.
Petrilla said increased fan support could help team performance.
"A bigger crowd would definitely encourage us to get pumped up for the game. A big crowd also gets in the heads of the opponents and causes them to make errors," said Petrilla.
Every student who buys season tickets to the football games receives a T-shirt that helps unite the section and shows the opposing team they are fans behind their players.
UPJ's maniacs club used to sign up incoming freshmen and provide them with T-shirts. Later, the policy became to hand out shirts only to the game attendees.
Pitt-Johnstown students have not attended to support fall sports as much as they have in years past, and it might be because of the teams and how they are doing.
The student section in Oakland at basketball games is so hard to get into because the teams are doing so well. This causes students to have to attend other events throughout the year to show loyalty in order to get tickets.
Pitt-Johnstown students do not fill the stands at any game.
"If there were as many people that consistently came out for the games as the Oakland Zoo does, then I would be there every game," said Rook
The Pitt-Johnstown soccer team has not started as well as they would have liked to, and fans can only help. With more student support comes players' confidence, said Tyler Rothbauer, a soccer team junior.
As teams start to struggle, the student fans can provide support.