Lacrosse relocation aids community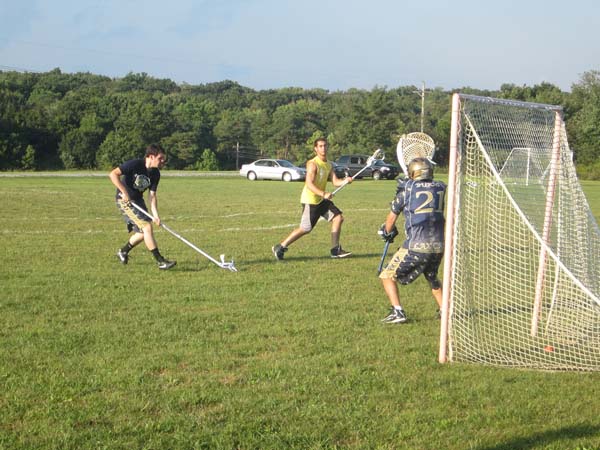 In addition to typical sports team's goals, such as playing well, playing hard and improving, Pitt-Johnstown Lacrosse Team members have given themselves a lofty goal – to help lacrosse gain footing in Greater Johnstown – a region with only one organized lacrosse league.
The single Johnstown lacrosse league is offered at the Greater Johnstown YMCA and is open to those in grades 4 through 12 and there are no high school lacrosse teams in the Laurel Highlands Athletic Conference.
Pitt-Johnstown Lacrosse Captain Matt Ziance said he thinks the UPJ team can help promote the game. To do this, he said the team is to play its home games at The Mound field in Westmont.
"We think we can get kids who go to Westmont and Bishop McCort interested," he said. "We'd like to see area high schools (organize lacrosse teams)."
The Mound was chosen because it's a good place to grow the game, Ziance said.
Westmont Hilltop Recreation Commission Director Fran Sivi said she's been hoping lacrosse would gain popularity in the Westmont area.
"We've been looking to be able to do something like this for a while," she said. "I'm hoping we can keep this going for years.
"I'm deeply grateful for the team's support as well as their coach (psychology professor Alan) Teich … they donated a lot of time.
Sivi said young fans can benefit greatly from the move.
"It's such a win-win situation when kids can learn from college players," she said.
In past seasons, the team played some of its home games at a field near the Metlife building along Schoolhouse Road – only a short walk for Pitt-Johnstown students.
But according to Assistant Captain Tyler Burns, the team rarely had home games because of bad weather and lack of an available home field.
Ziance said he thinks attendance will increase from last season's numbers – around 30 per home game — despite the possibility of fewer UPJ students attending due to the new home field's distance from campus.
"I think students will still come. It's just a short drive down the highway," he said.
We're hoping to get about 50 (at the Westmont location)," Ziance said, adding that he expected the increase to come from the Westmont area, including some who attended a summer lacrosse camp that he and former Pitt-Johnstown student Ryan Lombardi held.
Ziance said he still hopes to continue to increase lacrosse participation at Pitt-Johnstown.
"We've got a lot new guys filling in … We have 32 on the roster and 31 have experience," he said.
This year's roster features a more experienced group, compared to last year's team that had 22 players. Only 14 of those players had any lacrosse experience, Ziance said.
The goal is to get the team to have at least 35 members per year, so, eventually, the team can be closer to becoming an NCAA team at Pitt-Johnstown, Ziance said.
"It's going to happen … to me it seems like it would make sense," he said.
Burns said he's optimistic for future lacrosse teams.
"With the growth in our team the last few years and now having a field of our own, this season and the future of this program are looking great."