Pingers, pongers could use a league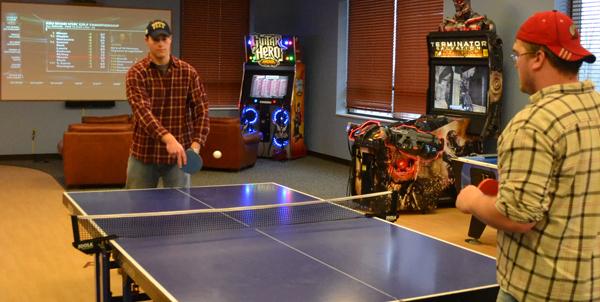 Pitt-Johnstown is home to a variety of sports played at the varsity, club and intramural levels. But the Student Union's Zone gaming room is home to another type of athlete.
Sophomore biology major Mike Wiand has a long-standing pingpong match against his friend and fellow commuter, senior secondary education-history major William Imler.
"We're very competitive, so we come here. We don't have pingpong tables in our homes," Wiand said.
Both men commute 40 minutes to campus every day and have breaks of up to two hours, so playing together is a good way to kill time.
"And we both could use a good workout," Wiand added.
Imler said that the pair plays three to four times per week, and that, despite his no-loss record against Wiand, they are intense competitors.
Wiand said he considers pingpong more of a sport than a casual game, even though he isn't competing for anything other than the thrill of a win.
Both men said that they would like to see a tournament or some type of league set up so they could play against more people and compete for a prize.
"I think a lot of people would do it," Wiand said.
Across campus in the Living/Learning Center, some students already have participated in pingpong tournaments, where they have access to a table in the third-floor recreation room.
Junior finance and math major Zhe Li said that although this is his first year living in the LLC, he played in a tournament during his sophomore year.
"Last year, our (resident assistant) had a pingpong tournament each semester," Li said. "A lot of people in the LLC play pingpong."
Although that RA is no longer at Pitt-Johnstown, Li said he hopes there will be another tournament this year.
"We may talk to another RA to get one organized," he said.
Student Life Director Sherri Rae said that The Zone is always in use, and that pool and pingpong are both popular attractions there.
"If there was interest among the student body, we could definitely look into tournaments and league play," she said, "although we would want to be conscious of timing so as not to disrupt students' 'free play' time."