Construct a real sidewalk now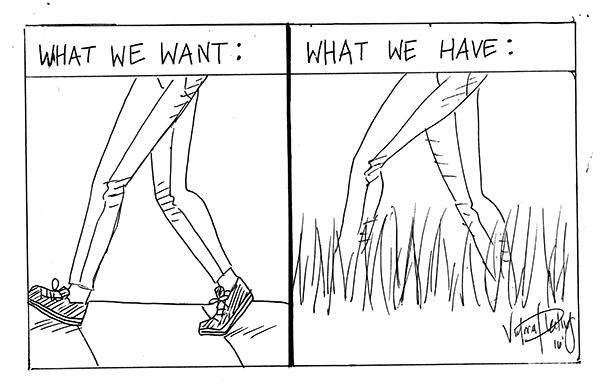 Pitt-Johnstown community members who don't own a car or choose to walk to the Richland Town Centre must walk along Theatre Drive, a two-way road with a 20-inch concrete curb serving as a makeshift sidewalk.
If one were to stumble onto the roadway where cars speed by, it could result in injury or death. This situation is potentially serious and needs leaders' immediate attention.
A potential sidewalk from the campus to the center is being discussed by  Richland Township and Cambria County officials with Pitt-Johnstown President Jem Spectar and PennDot representatives.
But the obvious, most immediate need is for a relatively short walkway connecting College Park Apartments to campus.
The university has the resources to create and maintain a sidewalk, but we have seen no initiative to start the project despite years of discussion. The sidewalk should be delayed no further.
If keeping the sidewalk clear during winter poses a possible problem, then Pitt-Johnstown leaders should work out a deal with township officials to use campus equipment to get the job done.
We recognize ways to travel other than walking, but these alternatives cost money, are unreliable and,  are not always available.
The bigger project –a sidewalk that connects the campus to Wal-Mart– should be supported in the long run. But the College Park Apartments' connection to campus needs to be done now.
The College Park Apartments sidewalk is a relatively small project that may cost less than $50,000 and involve minor intrusions on lands that already are publicly owned.
Its need is immediate for two reasons: Winter is coming, and the apartments in which students are housed is to be reopened in a renovated form this coming January.