Staff should clean ceilings out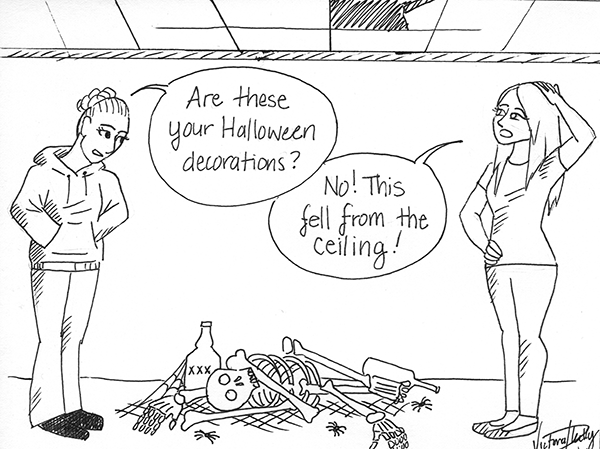 Students have found objects such as alcohol bottles and drug paraphernalia in freshman residence hall ceilings, and, although for some this may seem funny, it can be dangerous as it could put students at risk.
Students who find illegal substances or objects in their ceilings are put at risk of being unnecessary punishment because of their possession of such material. Action should be taken to prevent the risk.
Residence life staff members tell students who find any illegal objects that they should refrain from touching them and immediately notify campus police.
There is, however,  a better solution: resident assistants clean out the ceilings of the hall they are in charge of before freshmen move in.
This shouldn't be too big a chore, because assistants are required to be on campus a week before students move in.
Another solution would be for Physical Plant workers to do a sweep of the freshman residence halls and remove these objects from the ceilings.
This would be upholding their promise of dedication to maintaining and preserving the campus, as stated on the Pitt-Johnstown website.
In the meantime, if students find illegal objects in their ceiling, they should take extra precautions to avoid blame.
We urge students to listen to their RAs and not touch whatever illegal objetcs they find, and, if they don't immediately report their finding to campus authorities, they should tell their RA promptly.
There is no reason to put our newest community members at risk with contraband somewhere above.
We surely have the resources to assure a clean and comfortable room that does not have a potential criminal change lurking.