New rules threaten club funding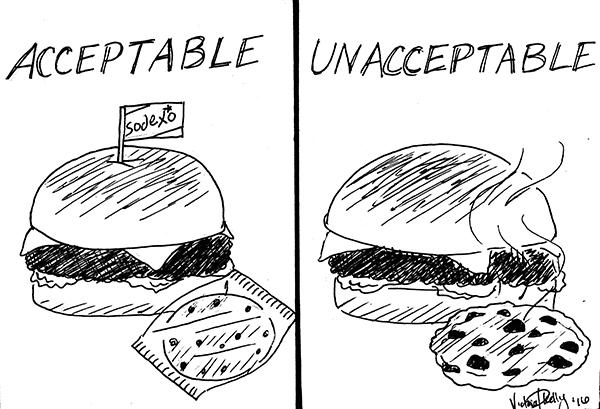 During the time students spend at Pitt-Johnstown, they have opportunities to get involved in clubs and organizations that offer ways to form friendships, build resumes and attend conferences.
But this comes with costs. To cover these costs, students sometimes have relied on food sales to raise money.
A new rule by Sodexo forbids club members from selling food prepared by individuals. Instead, food items distributed on campus must be either prepackaged or made by Sodexo staff.
This could pose a problem for club members, who have to consider possible, less-successful ways to raise money.
If club members are unable to raise sufficient funds due to this new rule, the result could be the inability to take trips to conferences and prevent members and from fully experiencing what these clubs can offer.
According to Student Affairs Vice President Shawn Brooks, this new rule was created so students wouldn't become sick from eating food that wasn't properly heated or cooled.
We understand this possible problem; it's important to note, however,  that bake sales typically consist of self-wrapped baked goods such as yummy cookies, brownies and cupcakes.
In these cases, there is little need for heating or refrigeration.
To give club members the opportunity to still sell self-prepared items, perhaps a Sodexo employee can oversee the bake sale to make sure items stay appropriately packaged to avoid any possible problems.
This way, club members can continue to count on food sales as funding sources, allowing students to enjoy new opportunities in a fulfilling college experience.
We have always encouraged students to enjoy a full measure of the positive experiences our campus has to offer.
Any rule or policy that threatens to reduce opportunities should be adjusted to minimize the threat.