Priorities need tuning-up tool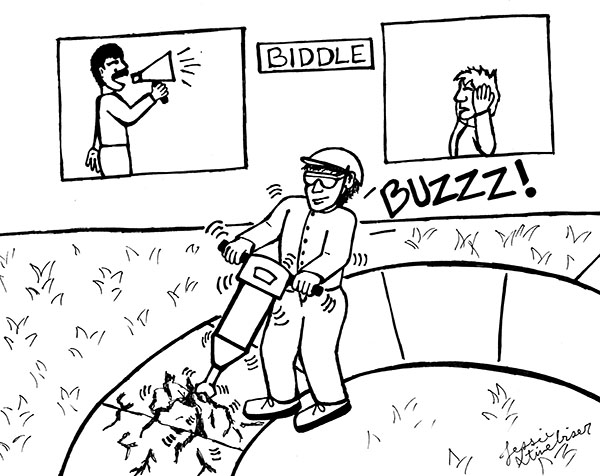 The Biddle Hall sidewalk construction noise has disrupted classroom instruction, taking time away from both professors and students. If similarly planned and executed projects are to take place in the future, a standard should be held to preserve the university's core mission: to provide "a high-quality educational experience."
Renovations to the Highland townhouses, Hawthorn Lodge's bathrooms and Krebs Hall's biology labs were finished over the summer. These renovations, in contrast to the more recent Biddle sidewalk construction, would have been more difficult and distracting had they been completed during the fall semester.
Students would be living in these residences or would need to use the biology labs for class. Instructors may have had to modify syllabi and course content to work around the construction.
These potential circumstances would have been a greater nuisance and impacted more people than simply construction noise.
Yes, we agree the sidewalk construction was annoying. On the bright side, it seems to have been finished relatively quickly.
Plus, the construction completed thus far has positively affected the immediate campus community; at least these renovations were made a priority before construction begins for the John P. Murtha Center for Public Service.
However, the sidewalk's speedy completion raises at least one question: why couldn't thishave been squeezed into the summer renovations agenda or done on weekends when there are no classes?
If the only scheduling option for construction had to fall on weekdays, why not wait until late afternoon or early evening when most students may already be finished with class?
University officials who coordinated class-disrupting construction projects are unintentionally prompting students to question the university's dedication.
If the university is not taking our education seriously, then why should we?
Most professors try to make class interesting, keeping students attentive. Students can choose whether they are going to be engaged or zone out in class, but it's harder to ignore construction from outside that neither students nor professors control.
We applaud university officials for renovations finished over the summer break.
Upcoming projects should be organized and executed to best minimize distractions for both students and instructors, so as not to impair Pitt-Johnstown's main objective as an educational institution.