No, wait, it's better over there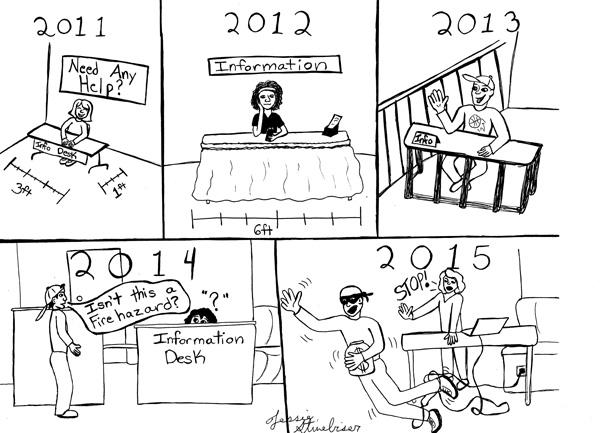 The replacement of the custom-made information desk in the Student Union with a temporary table displays a costly fickleness among Pitt-Johnstown leadership.
This information desk has been changed three times thus far. Most recently, maintenance workers removed the customized desk on the Tuesday of spring break week.
That desk,-which replaced another temporary table that replaced an elaborate permanent setup,-was in place for only about a semester.
Student Affairs Vice President Shawn Brooks said that the customized desk was removed due to its size and location making it difficult for people to pass through during peak hours.
The bulky desk also posed as a safety concern, hindering students from evacuating the building quickly in case of an emergency, Brooks said.
According to Brooks, better designs for the information desk are being looked into.
This temporary table being used as a makeshift information desk radiates a lack of planning in the location of the customized desk.
It is no surprise that the Student Union is a heavily trafficked area. Perhaps the size and location of the desk should have been taken into consideration before money was spent on a custom job.
Replacing this desk may have eliminated the safety risk of overcrowding in an emergency, but the swap still presents a hazard and more money was spent for the removal.
The computer and its cords are out in the open, presenting the possibility of wires being tripped over, pulling the computer off of the table.
Not only does a table serving as an information desk look unprofessional, it blends in with surrounding tables in the Student Union.
With the exception of a desktop computer and its cables on the table, this understated and impromptu information desk is almost indistinguishable at first glance.
Inevitably, this temporary desk will be switched out again, possibly with a brand new custom-made desk, costing even more money.
We hope the next time someone decides we need a professional-looking place for people to approach with questions–and we think such a place is needed–there is a thorough review of the location.
We cannot keep moving the furniture around and buying new furniture.