Students grumbling over parking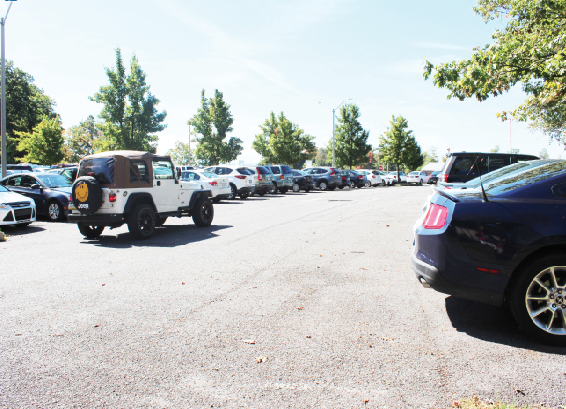 As parking restrictions increase, some students are disappointed with the parking options they are given.
In an unsigned email sent out by campus police staff last Wednesday it read that several parking lots would be closed for campus events, which included behind the Nursing and Health Sciences Building, the entire front lot of the Living/Learning Center and along the tree line separating Kunk's Drive from the Krebs commuter lot.
Other areas that were restricted were the inside row along Highfield Avenue, in front of Blackington Hall and the Wellness Center parking lot.  The areas were restricted Wednesday through Friday.
The email was sent out the evening before the parking lots were closed, giving students only a few hours' notice before Wednesday's classes began.
Freshman commuter Jake Anderson, who did not see the email in time, said that the email should have been sent out sooner if administrators knew the parking lots would be closed off.
"All of the parking lots were full, so I barely managed to find a spot on campus," he said.  "I almost took down my (Pitt-Johnstown) parking pass and parked over at Penn Highlands.
"I've been late to class several times because of the lack of parking. You never know where to park.
"I'm a freshman, so parking is already limited for me. When I started school here, (administrators) never really explained to me and other freshmen on where we were allowed to park."
"Something needs to change," Anderson said.
Sophomore commuter Megan Anderson also said she feels there is not enough parking on campus.
"It's horrible," she said.  "There is definitely not enough parking on campus, and what's messed up is resident students have closer parking than commuter students.
"There's also faculty members that are taking up commuter spots. I've seen professors pull into commuter parking spaces when there was no faculty member parking available and I got so mad.
"The fact that they sent out that email about parking the evening before was messed up," she said.  "They should have given us a notice sooner so we could prepare. They knew those lots would be closed."
Campus Police Chief Eric Zangaglia was not available for comment.
Beginning this semester, the Living/Learning Center will be undergoing renovation through January 2021, and different areas of the parking lot in that area are to be closed off to accommodate the renovation, meaning even less parking for students.
Sophomore Jade Henry said she feels there is enough parking on campus, and that students should show up early to find parking.
"The parking lots can be crowded, but if you can't show up early to park and walk to class, that's your problem," she said.  "But I do feel parking should not be closed off to students during school hours. 
"We pay for the parking spots on campus and half of our campus commutes. Unless parking is closed for maintenance reasons, we shouldn't have to move our vehicles until normal class hours are over."