Doctor recounts a patient's story
A packed crowd of nursing, psychology, communication and English literature students filled a room last Tuesday in Blackington Hall to hear Dr. Gaetan Sgro's story.
Sgro, who has a bachelor's degree in English literature, is an academic hospitalist at the VA Pittsburgh Healthcare System and has been an instructor at Pitt's School of Medicine since 2013.
About three years ago, Sgro met Pitt-Johnstown communication professor Susan Wieczorek, who is also a medical-interview facilitator at Pitt's School of Medicine, when they were paired together to train first-year students how to communicate in a medical interview.
"I had the wonderful opportunity of meeting him, kind of by accident.
"I observed the way he communicated with the students, and I was taken back because he was a little bit different from some of the other physicians. When I found out he had a background in Humanities, I understood why," Wieczorek said.
Sgro told a story about one patient he met in 2012—a 92-year old World War II veteran who was captured the day before D-Day.
Sgro said the veteran was a paratrooper who had been ordered to parachute behind German lines and establish footholds while Allied troops stormed the Normandy beaches.
He said the veteran had told him that he wasn't afraid while he was on the airplane.
"They were just ready to go. They started jumping out and everything was going perfectly. As he's sort of drifting down, he's starting to hear more and more voices and now there's some flashlights and he thinks he hears dogs barking.
"He hits the ground and, three seconds into his experience in Europe, he's surrounded by Germans, and he's captured immediately," Sgro said, adding that the veteran spent the next several months in a prisoner of war camp.
"He grabbed my hand and was like; 'Doc, I can still tell you exactly what the tank sounded like the morning that the Allied tanks rolled in.'
"That was one of many stories from my patients that stuck with me," Sgro said.
"As soon as I left his room, hearing that story, I was really kind of got caught up in it, and I called the one person that I knew would really appreciate it—my dad.
"I told him that story, and he's like: 'Gaetan, you gotta keep him alive.'" Needless to say, you can't keep these guys alive…not in that sense."
Wieczorek appeared to be pleased with Sgro's "Why Stories Matter" presentation.
"My objective was to introduce an interdisciplinary perspective on patient care," she said after the presentation.
"I believe through storytelling, it is the means through which we see the human side of the science of medicine."
About the Contributor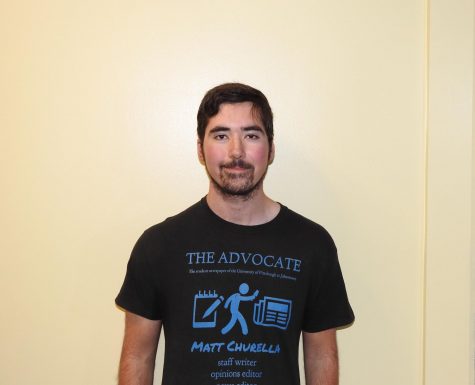 Matt Churella, Editor-in-Chief

Graduated High School: 2016, Cambria Heights High School (Patton)
Year: Senior
Anticipated Graduation Date: April 2021
Major(s)/Minor(s):...