Food service gets new head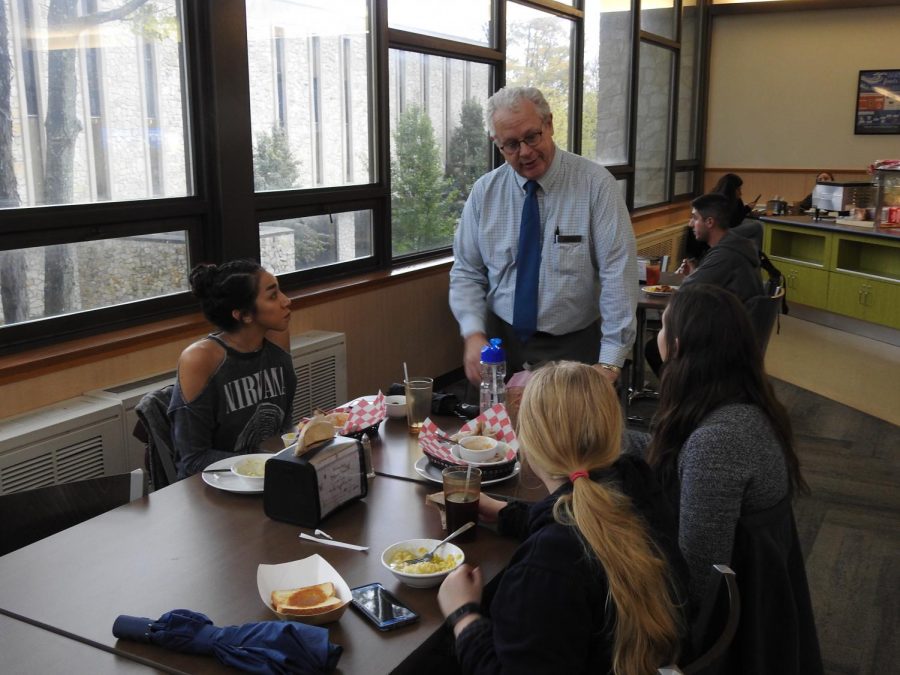 Pitt-Johnstown students might have noticed Jim Butler, Sodexo's new general manager, while eating in the Student Union's Dining Hall.
Butler took the general manager's responsibility from Kevin Dicey a few weeks ago.
Dining Director Bob Knipple and Butler attended an Oct. 15 student government meeting, which had given Butler a chance to introduce himself to senators.
Student Government Vendor Relations Committee Chairwoman Olivia Lindstrom said committee members meet with Butler every other Wednesday.
Lindstrom said that Sodexo staff take student satisfaction seriously, and she thinks Butler has taken his new job with a great start.
Knipple also said he is impressed by how well Butler has been doing in the general manager position so far.
"He is easy to work with and student-centered," Knipple said, adding that he thinks Butler has an interest in students' happiness and well-being.
"I'm impressed with his commitment to meeting with students."
Knipple said that, while some Living/Learning Center residents were being relocated to alternative housing facilities for precautionary concerns of high humidity levels, Butler and other Sodexo staff wanted to do something kind for them.
"On his first day here, he found there were students displaced about the (Living/Learning Center) issues, so he and other staff members got together and made snack bags for those students," Knipple said.
According to Knipple, Butler was hired after he had passed Sodexo's hiring process. Knipple said that Butler was one of two candidates for the position and that Pitt-Johnstown administrators chose him because of his experience.
Knipple also said he is optimistic about Butler's future at Pitt-Johnstown.
"He has everyone's best interests at heart. He definitely seems to like it here, and he seems to like the students," Knipple said. "I am very positive he will do well here."
Dicey, who was promoted to Pitt-Oakland's residential dining manager, agreed that he thinks Butler will serve the students' interests.
"I am excited with the energy and new ideas he will bring," Dicey said in an email.
"I would encourage him to get engaged with the community. The student body was very good to me, and I am sure they will be (good) to him."
Butler said he tries to talk to three to five students every day about what they think of their meals.
"I'm here to get as good of a feel for this campus as I can in a short amount of time, and that is only done by speaking with, but primarily listening to, as many people as I possibly can."
He said, although he ran out of money before he could finish his college degree at the University of Wisconsin at Platteville, he has an experienced background in dining services and that his story begins with his parents' family-owned restaurant.
"They built it when I was 3 years old," he said. "I did some restaurant work in high school, and my first work-study job was at a Student Union making pizzas."
Butler said he's managed two restaurants and was a food and beverage director of a ski and golf resort in Wisconsin.
He said he has also worked at universities throughout Maryland, North Carolina and Pennsylvania.
"I've got a pretty broad range of experience."
Butler said that he hasn't noticed many differences between Pitt-Johnstown and other universities where he has worked.
"I find people are generally very similar," he said, adding that he has worked with Sodexo before in 2008 when he was working at Guilford College in Greensboro, North Carolina.
Butler said he left Guilford College to move to Mercersburg, Franklin County, where he lived for eight years before coming to the Johnstown area.
Butler said he worked as Mercersburg Academy's Dining Services Director during that time.
"It was more of a lateral step, but it was an opportunity to grow myself," he said of why he had decided to move to Mercersburg Academy.
"It was a different environment, and I learned a lot. It was a good experience."
Butler said he does not know whether his time spent at Pitt-Johnstown will be shortly lived or a long-term job but said a change in Sodexo is coming.
"We're in the midst of some transition right now in part because we're completely overhauling our entire menu. We're bringing in some different recipes," Butler said, adding that the change is a systemwide push that Sodexo is doing internationally. 
However, Butler said he does have some influence in determining what foods Sodexo offers to Pitt-Johnstown students.
"It's a blend to be honest. They have what they feel is a successful core program that they expect us to operate within.
"They have core concepts that they want to make certain that we're maintaining and standards that they want to make sure we're maintaining," Butler said.
About the Contributors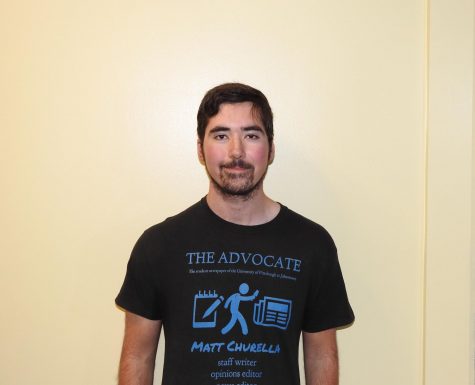 Matt Churella, Editor-in-Chief

Graduated High School: 2016, Cambria Heights High School (Patton)
Year: Senior
Anticipated Graduation Date: April 2021
Major(s)/Minor(s):...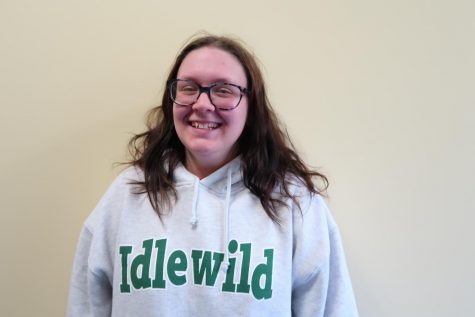 Alyssa Coleman, Editor-in-Chief

Graduated High School: 2016, Bishop McCort Catholic High School (Johnstown)
Year: Junior
Anticipated Graduation Date: April 2021
Major: Journalism
...