10 students going to prison for class
A special topics class is set to be offered for the first time this spring and taught from inside State Correctional Institution-Laurel Highlands prison in Somerset, Pitt-Johnstown justice administration and criminology professor Ross Kleinstuber has confirmed.
Although the class is scheduled from 1-3 p.m. on Mondays, Kleinstuber said a campus shuttle van is to take students from Krebs Hall parking lot to the prison at noon and return to campus by 4 p.m.
A total of 10 Pitt-Johnstown students are to be selected through an application process for enrollment to Crime and Public Policy, which is part of Temple University's Inside-Out prison exchange program.
Enrollment applications are due Friday.
"I will interview the students and sort of figure out who's suitable," Kleinstuber said, adding that all students are allowed to request an application by emailing him at [email protected]
"It's not going to be closed to freshmen, but they're going to be less likely than upper classmen to get into it."
According to an Oct. 19 campuswide email, the course is to cover crime and public policy's intersection by examining the ways that crime shapes public policy, how public policy influences criminal behavior and the pros and cons of how society responds to crime.
The email states that the classwork includes in-class exercises, a group project on a criminal justice-related policy and other writing assignments.
Joining the 10 Pitt-Johnstown students in the prison learning environment will be 10 inmates from the prison.
Kleinstuber said the prison's staff are to determine which inmates are eligible for educational programs and that those students will then go through a similar application process with him.
According to a statement from the inside-out prison exchange program's website, a prison is a safe environment to teach in.
"For one thing, the administrators would never allow the class to happen at all if they thought there was a safety concern.
"For another, incarcerated participants tend to value highly the opportunity to participate in an Inside-Out course, and would be unlikely to do anything to jeopardize it," the statement reads.
"Also, those who might have a higher potential to cause a safety problem are screened out of participating in the course by corrections staff."
Social Sciences Division Chair Ray Wrabley said he is excited about Kleinstuber's future class, adding that Inside-Out is a highly-regarded program.
"This is a great opportunity for Pitt-Johnstown students to learn firsthand about many of the challenges facing our criminal justice and corrections systems."
Wrabley said he thinks the course will be taught again in future years, but Kleinstuber said he has mixed feelings about teaching a class from inside a prison.
"I've never done this before, so I'm excited and nervous at the same time," Kleinstuber said.
About the Writer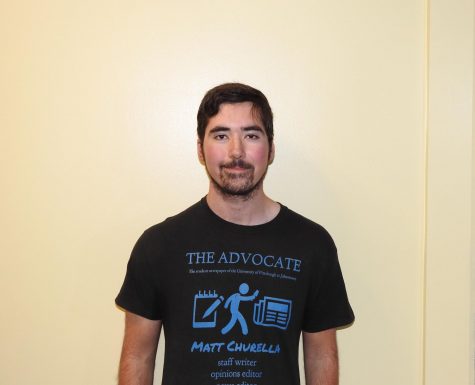 Matt Churella, Editor-in-Chief

Graduated High School: 2016, Cambria Heights High School (Patton)
Year: Senior
Anticipated Graduation Date: April 2021
Major(s)/Minor(s):...