10 comfort animals among residents
Hang on for a minute...we're trying to find some more stories you might like.
Though emotional-support animals are meant to comfort students with documented disabilities, such as anxiety disorders, Health and Counseling Director Shelley Peruso said she worries that these animals are not therapeutic for coping strategies.
"I just don't think it's an effective way to deal with anxiety.
"People who deal with anxiety are stressed in general," she said, adding that she thinks already-stressed students are adding to their stress by assuming responsibility of their animals.
"I just don't think it's a wise move to take."
Peruso said she thinks it is important for anxious students to engage in counseling services to learn effective coping strategies.
"Once you graduate from here, you're not going to be able to take your emotional-support animal with you to your job."
Emotional-support animals are family pets—dogs, cats, hamsters, guinea pigs or rabbits—that are allowed to stay in a student's residence room after Peruso approves his or her request.
There are several rules that need to be followed before a student can bring his or her animal to live in on-campus housing, such as: submitting a full-bodied photograph of the animal, providing an emergency contact of someone who lives within two hours from campus and having roommates sign an agreement to allow the animal in their room.
However, Peruso said roommates cannot refuse the emotional-support animal simply because they don't like the animal.
She also said that, in a situation when a student's roommate refuses the animal due to an allergy, the student would be relocated to another available housing facility.
Peruso said emotional-support animals have only been allowed to live on campus since last academic year.
Housing Director Bob Knipple confirmed students with emotional-support animals do not pay additional housing fees.
"However, students with (emotional-support animals) are required to sign an agreement assuming responsibility for any damage created by the animal," Knipple said.
Peruso said there are about 10 emotional-support animals living on campus, with most being cats.
She said there is only one dog.
She also said Pitt-Johnstown's campus is not a good environment for a dog to be in because they must stay in students' rooms.
"When you're in class all day, you're gone for hours, and dogs need to be walked and exercised; they bark, they make noise and they need attention," she said.
"Cats aren't quite as needy in that regard. They can pretty much sleep their day away."
Peruso said there was one incident of an emotional-support dog who bit someone last year.
She said the dog was forced to leave campus as a result.
"Animals have different personalities, and you don't know how they're going to react in a situation where there's a lot of people," she said.
"But service dogs (different from emotional-support animals) are trained to be around lots of people and not to get excited."
According to Peruso, Pitt-Johnstown has only one service animal, Justin Sprinkle's 9-month-old dog, Clyde.
"(Sprinkle)'s a veteran, and his dog was provided through an organization that provides service animals to veterans through Wounded Warriors. So, his is a legitimate service dog.
"It is a service dog still in the midst of training, but the dog is learning how to be in loud noisy situations without reacting inappropriately," Peruso said, adding that not all service animals are dogs.
"According to the (Americans with Disabilities Act of 1990) service animals are dogs or small horses," she said.
Knipple pointed out that laws only apply to trained service animals; it does not provide rights to those service animals that are still in training.
"In the event that a student would need a service animal, we are required by federal law to allow the dog on campus and to provide it with access to any areas the student would need to go, including classrooms, dining venues and residence halls."
"I've never seen anybody use a small horse as a service animal."
Sprinkle said that, although he lives off campus with Clyde, he has had some troubling times with his dog on campus.
"He is still a puppy, and all he wants to do is play," Sprinkle said. "When he wears his vest, he knows it's work time."
Clyde wears a patch on his vest, requesting that people do not pet him, which Sprinkle said often makes him feel badly.
"Sometimes, I feel like a bad person because some students get visibly upset when they can't pet him."
Though Clyde shouldn't be petted, Sprinkle said Clyde still draws attention from others.
"The best part about having Clyde on campus is that I get to take my buddy anywhere with me.
"He draws a lot of attention and that is helping me improve my social skills as a civilian."

About the Writer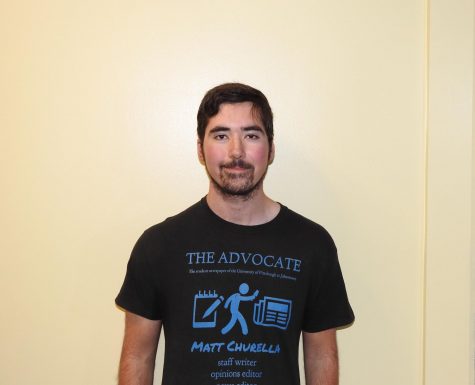 Matt Churella, Editor-in-Chief

Graduated High School: 2016, Cambria Heights High School (Patton)
Year: Senior
Anticipated Graduation Date: April 2021
Major(s)/Minor(s):...