Military recruiters can give answers
Military recruiters often visit campus to speak with students. Some students may avoid speaking with them, but some have said they realize that recruiters are people, too.
Army Staff Sgt. and recruiter Aaron Eddington said he thinks some students would not want to be taken out of their normal lifestyles to join the Army.
"That deters them from talking with me. I think a lot of them would want to know what careers we have to offer," he said.
Eddington said he offers free gifts, such as a pen or a sticker, to break the ice with people who may be intimidated to ask him questions.
Eddington offered a pen to Pitt-Johnstown President Jem Spectar, who had walked past and greeted him.
Freshman Braidon Shriver said he would consider joining the military.
"I would for the fact that (the military) would be able to help pay for my schooling, and (I could) do interesting things," he said.
Junior Cameron Carr said his nervousness about joining the Army reserves was quelled by his excitement to join.
"Ever since I was a kid, I've always had a passion to be a military solider," he said.
Carr said students should not sign up specifically for financial reasons.
"Don't necessarily do it for the money because you might be let down by some of the promises made (by recruiters)," Carr said.
He said the Military did not pay for any of his school tuition because he was medically discharged for a head injury before he could have the required number of active duty dates needed on his record.
"I still love it. Regardless of the experience I had, I still feel humbled to have served this country," Carr said.
But Eddington said most students pursue the military for tuition assistance.
"We can literally pay 100 percent of their tuition. Some (students) qualify for bonuses," he said.
Eddington said bonus qualifications depend on a student's Armed Services Vocational Aptitude Battery exam score and whether their job offers a bonus.
Eddington said another reason why students might avoid speaking with a recruiter is because they feel that doing so means they would sign their lives away.
"They think that sitting with us is going to sign them up. There's no obligation to serve," Eddington said.
About the Writer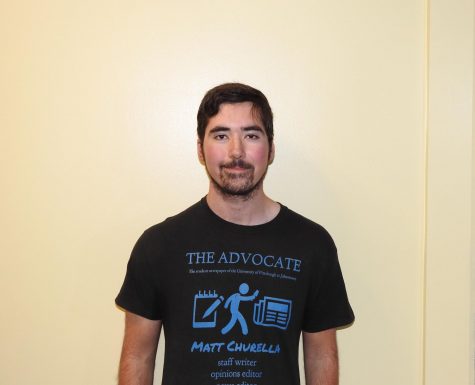 Matt Churella, Editor-in-Chief

Graduated High School: 2016, Cambria Heights High School (Patton)
Year: Senior
Anticipated Graduation Date: April 2021
Major(s)/Minor(s):...