Pitt Day bus trip to be rescheduled
Pitt Day in Harrisburg is to be rescheduled to a date not yet determined, according to RealWorld Career Services Executive Director Bob Knipple.
Pitt Day was originally scheduled for last Tuesday, March 20, as part of Pitt-Johnstown's civic engagement week, but was canceled because of safety concerns about students traveling to Harrisburg in winter weather.
Knipple said 18 students had registered to leave Pitt-Johnstown on a bus for the State Capitol in Harrisburg.
"This is fewer than previous years, but I think that was due, in large part, to the fact that the (state) House (would not have been) in session.
"One of the reasons students participate is to meet with their legislators," Knipple said.
Student Government President Pro Tempore Wyatt Deutsch said Pitt Day should be interesting to students because they are able to do that.
Deutsch said he represented Pitt-Johnstown at the last three Pitt Days in Harrisburg.
"It's nice. You get to see how the government works on a state basis," Deutsch said.
Deutsch said he thinks it was a good decision to cancel Pitt Day's events.
"I like the safety about it. We do have campuses up north.
"It's unfortunate we couldn't go earlier, but they definitely acted with students' interests in mind," Deutsch said.
Junior Matt Speck said he did not register for Pitt Day because he did not hear about registration.
A Feb. 19 campuswide email was sent to students to announce Pitt Day's registration was open for sign-ups.
Speck said he would have to be more informed about Pitt Day to hear other people talk about why it's important to attend before he would consider registering for the trip.
Knipple said State Sen. Wayne Langerholc, R-35th, had made arrangements to provide Pitt-Johnstown students with a tour of the Senate floor and a group photograph.
"His office had also reserved seats for us in the gallery so we could watch the Senate session. He was also going to introduce our group to the Senate once it was in session.
"So, we're really disappointed that we won't be able to be there for that," Knipple said.
Knipple said he does not remember a time when Pitt Day in Harrisburg had to be rescheduled.
About the Writer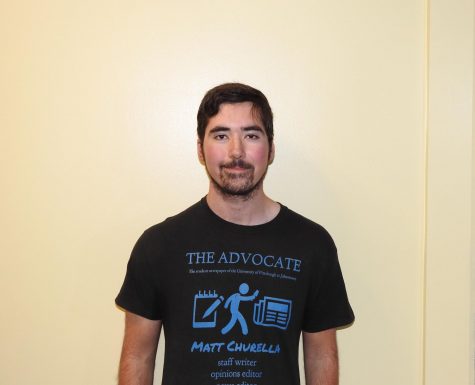 Matt Churella, Editor-in-Chief

Graduated High School: 2016, Cambria Heights High School (Patton)
Year: Senior
Anticipated Graduation Date: April 2021
Major(s)/Minor(s):...