New tool can aid class scheduling
A new online tool was developed last year by PeopleSoft, Inc. of Pleasanton, California, to help students plan class schedules.
The tool is called Schedule Planner, and it was first announced in a Feb. 1 campuswide email to Pitt-Johnstown students by Registrar Christian Stumpf.
Stumpf said the tool was not developed to change the enrollment process.
He said students are still able to continue using the self-service option to enroll in classes.
"(Pitt) Administrators decided to offer it to all Pitt students as a service to our students," Stumpf said.
Stumpf said Schedule Planner can be beneficial.
"In my opinion, the biggest benefit of using Schedule Planner is the feature where a student can choose all of the classes (not individual class sections) and the planner will generate all of the possible schedule combinations that include the classes outlined," Stumpf said.
Stumpf said students can program break times, and the tool would generate a schedule that included their break times.
He said classes can be downloaded into a student's shopping cart after a student finds a schedule that he or she likes.
"Some students have found Schedule Planner to be very helpful and some students continue to utilize self-service enrollment.
"It is all a matter of choice and comfort for the individual student," Stumpf said.
Stumpf said Pitt administrators have provided training documents and videos that can guide students through the Schedule Planner tool.
He said those resources can be found in the Student Center or at the website: http://www.registrar.pitt.edu/schedule_planner.html.
Mathematics professor Michael Ferencak said he was not aware that the tool existed for students.
Ferencak said he advises about a third of all mathematics students.
"I'm afraid that I am not familiar in any way with the new tool.
"While I would imagine that such an advising tool might be useful with regard to General Education, I would prefer that math majors meet with their program-specific adviser when it comes to courses in the major," Ferencak said.
Stumpf said he did not send specific information to faculty advisers because Schedule Planner was designed for students to use.
"They cannot see a student's Student Center and, therefore, cannot utilize the Planner.
"The role of the faculty adviser is to make sure that the student is on track and taking the correct classes, not as much with the nuts and bolts of the registration process," Stumpf said.
Freshman Thomas Bracken said he would consider using the tool.
"I don't see why (students) wouldn't want to use it," Bracken said.
Bracken said he thinks some students would continue to register for classes through the self-service option.
About the Writer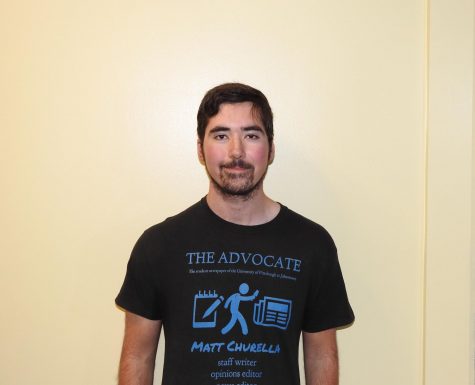 Matt Churella, Editor-in-Chief

Graduated High School: 2016, Cambria Heights High School (Patton)
Year: Senior
Anticipated Graduation Date: April 2021
Major(s)/Minor(s):...