Snow removal reorganized
Hang on for a minute...we're trying to find some more stories you might like.
Pitt-Johnstown President Jem Spectar said at a Jan. 24 Faculty Senate meeting in Blackington Hall that the university employees lack the equipment and workers to adequately remove snowfall.
Spectar said existing equipment and employees are capable of clearing roadways and major walkways, but they could not assure parking lots were cleared.
Spectar said he is not satisfied with the situation and pledged to review the university's lack of equipment and personnel to achieve optimal removal of snow.
"We will take it to heart. It's a very important concern."
At the meeting, several ideas to help achieve Spectar's goal were discussed.
One idea was to start the removal process earlier in the morning.
"We're gonna weigh the start time issue more carefully," Spectar said.
Another idea was to remove vehicles that are parked overnight from parking lots.
Engineering Division Chair Jerry Samples said he has seen students park in a faculty parking lot, and even in handicapped spots.
Samples told about 26 other attending faculty members that he asked one student who parked in a handicapped spot to park elsewhere and that the student replied, "I don't care. I'm late for class."
"I'd like to grab the person by the throat and make them handicapped," Samples said of his frustration with the student.
Sophomore Sidney Hollaway said she agreed that students should not be parking in faculty parking lots, especially not in handicapped spots.
"That's even more wrong than parking in faculty lots. People need those spots for a reason," Hollaway said.
Finance and Administration Vice President Amy Buxbaum said that Pitt-Johnstown has enough workers to remove light snowfall from campus.
Buxbaum said the overnight parking issue in commuter, faculty and staff parking lots makes Pitt-Johnstown's nine full-time Facilities Management workers' jobs more difficult.
"That is why we are working to better communicate with residential students who are parking overnight in academic lots," Buxbaum said.
She said the number of workers and equipment can become an issue when crews are working to rid the parking lots of snow, larger snowstorms drop several inches.
Buxbaum said Pitt-Johnstown's administrators can contract outside company officials who have access to the equiptment that can scoop and lift snow when it has accumulated over several days of weeks.
"At these times we will close (parking) lots to facilitate the work.  Those efforts are scheduled on weekends when necessary."
Hollaway said although she has not fallen on campus, she has friends who have fallen and hurt their backs on campus.
Samples said he knows of an incident from about 10 years ago, when a man fell out of his wheelchair as he was on the sidewalk along Student Union Drive.
Samples recalled that the man was not hurt, but he ruined his jacket.
He said Pitt-Johnstown officials received a message from federal authorities who came to inspect the site of his fall.
Samples said because there was not a sign that read "don't drive a wheelchair," officials paid $250,000 to make campus more handicapped accessible.
"We should make sure all our handicapped pathways are as clean as we can so folks can get around.
"We just need to be mindful of their needs," Samples said.
Samples said Pitt-Johnstown parking lots are not meant for overnight parking.
"There are rules, and they are not abided by, and that irritates me," Samples said.
Samples said he has seen vehicles on campus with eight inches of snow on them.
"That didn't happen in the last 15 minutes."
He said Pitt-Oakland students would not be given a choice if their vehicles were parked illegally.
"If this happened in Pittsburgh, they'd tow your car," Samples said.
Spectar sent a Jan. 29 campuswide email addressing the community about the situation.
In his attached statement, Spectar announced that the situation has been placed on the Johnstown Planning and Budget Committee's Feb. 21 meeting agenda to explore the possibility of additional resources and approaches to further improve the situation.
Spectar said morning grounds crews are to start their job an hour earlier.
"I apologize for the inconveniences that folks have endured because of insufficiently cleared parking lots," Spectar said.

About the Contributor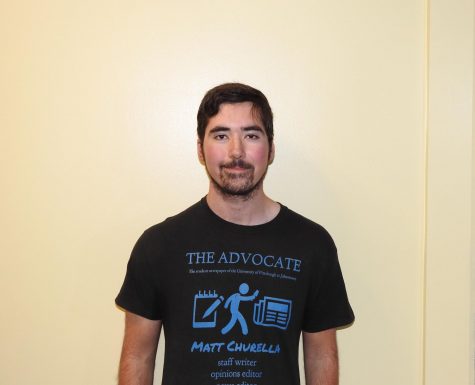 Matt Churella, Editor-in-Chief

Graduated High School: 2016, Cambria Heights High School (Patton)
Year: Senior
Anticipated Graduation Date: April 2021
Major(s)/Minor(s):...