New York City bus trip fills up fast
Programming Board members' New York City bus trip registration was filled within a day after sign-ups were made available Jan. 15 on Pitt-Johnstown's website through campus services.
Programming Board Vice President Angel Walters said she thinks the Guidebook app has contributed to the response to register for last Saturday's trip.
"(Students) who have the app were able to see the exact time sign-ups began, and (could read) other details about the trip," Walters said.
Walters said she also attributes a large part of the response success to Programming Board Marketing Officer Hanna Dixon.
"She's been doing an extraordinary job at producing lots of advertising materials."
Dixon said she creates Programming Board's flyers, posters and handouts. She also said her goal is to make flyers as eye-catching as possible.
Walters said a total of 106 seats were available to students in two charter buses to New York City.
However, Dixon said she noticed some flyers she had posted were taken down before they should have been.
Dixon said she thinks students took the posters to tell their friends about the trip or so other students would not see them, so that they had a better chance to get a seat on the trip.
"I honestly think either scenario is awesome. That means people are seeing the flyers and are excited about some events we do."
Dixon also said she does not advocate students taking down flyers.
One student who registered for the New York City trip was senior Yamila Audisio.
Audisio said that, although she has the Guidebook app, she heard about the bus trip through a friend and a flyer posted in Blackington Hall.
Audisio said she never took a Pitt-Johnstown bus trip before.
She said last year she visited New York City for the first time.
Before going on the trip, Audisio said she was most excited to travel with her friends.
"Although the trip is only for the day, it will be (significant) since we will be creating memories and enjoying everything together."
Walters said most Programming Board bus trips fill, or come close to filling, all available seats.
"The response from the student body (for the New York City trip) has definitely surpassed any other bus trip we've had this year," Walters said.
Walters said she thinks Programming Board's most successful program this academic year has been the pumpkin hunt—plastic pumpkins were placed throughout campus to turn in for prizes.
She said a campuswide Easter egg hunt's details are being worked on.
About the Writer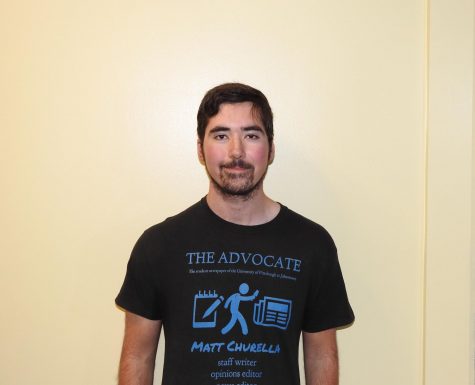 Matt Churella, Editor-in-Chief

Graduated High School: 2016, Cambria Heights High School (Patton)
Year: Senior
Anticipated Graduation Date: April 2021
Major(s)/Minor(s):...