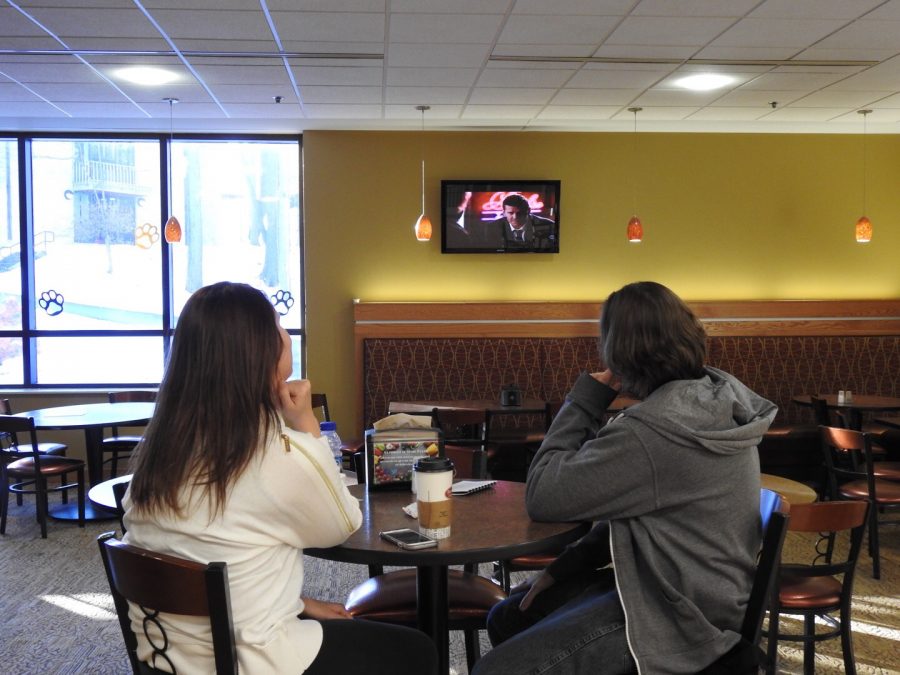 Matt Churella
When the College Park Apartments opened last year, many students were looking forward to the newly renovated off-campus housing option.
However, a problem that residents faced was the lack of cable television service. Instead of cable being installed in the building, a new internet TV system was to be installed, which is  called internet protocol television.
According to an article by Triple Play, a London company's website that helps install internet protocol television, through  a system where users are able to watch live television by utilizing internet connections.
"An (internet protocol TV) service can be delivered to an (internet protocol) enabled (television), mobile phone or tablet and can be easily incorporated into a video on demand," the article says.
In an August email sent to building residents, Housing Director Sherri Rae said Pitt-Johnstown officials were finalizing details for the new system, though the system was not able to be installed until January, according to the email.
Finance and Administration Vice President Amy Buxbaum said the system's installation was delayed because the contract's work took longer than expected.
Buxbaum said the buildings' coax cables, which provide cable, gave a bad picture quality in the building, and officials wanted something of good quality.
The company chosen is Philo of San Francisco, with the content being delivered through DirectTV, according to Buxbaum.
She also said the system would be restricted to Pitt-Johnstown's internet protocol address.
"Although a company was selected in September, the final sign-off on a contract didn't occur until December. It takes some time for the equipment to be ordered, configured and installed," said Buxbaum.
The equipment is scheduled to arrive Feb. 20, with the system's configuration and troubleshooting expected to take about two weeks, according to Buxbaum.
At a Jan. 9 student government meeting, President Joe Evanko said internet protocol TV is to be installed March 6, but Buxbaum said March 6 would be the latest the system would be ready.
Evanko also said building residents have been coming to student government senators about this issue.
"I think all the residents are frustrated (about not having cable). It's been a pretty consistent complaint since (the building) opened last spring (semester)," Evanko said.
While the building residents wait for the internet protocol TV system to be installed, they were able to either receive a monthly reimbursement or a Hulu live account.
Rae said last year's housing staff only reimbursed residents.
"(Housing staff) determined the cable cost and divided that by the amount of people living on campus," Rae said.
She said the number housing staff got is what the 74 residents received monthly last spring semester.
Building resident Hanna Dixon said she's not happy that there isn't cable yet.
She said she's happy the building reopened, but said the living cost should be cheaper.
"I think that it's pathetic (building residents) still get charged for cable and not have cable," Dixon said.
Buxbaum said she would rather wait for a good system to be in place than have a poor connection to cable.
Dixon also said university officials should supply a streaming device for students to use.
However, according to Buxbaum, students are to supply their own Roku streaming device to watch on a television.
According to Buxbaum, once (internet protocol TV) is installed, the contract with Atlantic Broadband officials would be over.
"The annual costs for Philo will be less than our costs for Atlantic Broadband service," she said.
She said officials are using the savings to upgrade residential wireless access. She also said by updating wireless access points across resident buildings, the streaming would be faster.
Over winter break, information technology workers reinstalled access points across the second floor and increased the coverage throughout the building.
The update brought Willow Hall's coverage to the standards of the College Park Apartments and the South Lodges, according to Buxbaum.
"The (College Park Apartments) and Buckhorn and Sunset have a wireless access point in each apartment and room (respectively)," Buxbaum said.
The update increases speed and coverage in the residence buildings.
Buxbaum said the freshmen halls and the Living/Learning Center are to receive the full update this month. The north lodges are only to get increased coverage next month, with the full update set to happen this summer.