Students work to introduce 'reality'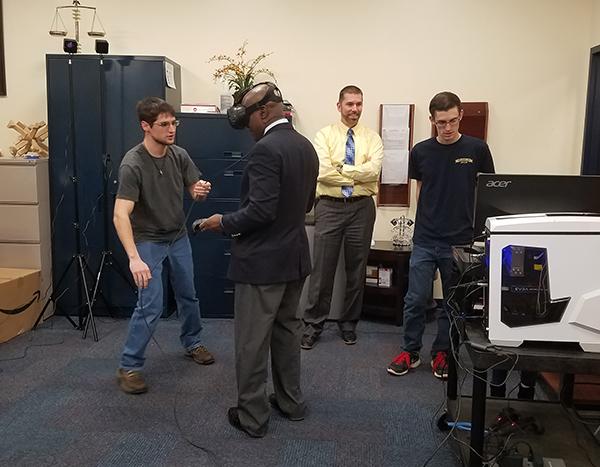 Now is the time for people to visit different realities and see a world that is not their own.
Virtual reality has grasped interest for the millennial generation, including students who attend Pitt-Johnstown.
According to senior Thomas Plutt, a project to introduce virtual reality equipment to the campus arcade started back in October 2016 with Rachel Logan leading the project.
"The idea of bringing virtual reality to campus goes back more than two years, proposed by (Student Affairs Vice President) Shawn Brooks," said Plutt.
Virtual reality displays in black-fabric-encased glasses will be used for fun and for studies, according to Plutt.
"We plan on having this available to professors and students to use in a variety of formats," said Plutt.
"This will also be used to play various games through the Steam application; for example, we currently have (an application of) a full anatomical structure of the human body that nursing students can dissect and use in their studies," Plutt said.
"We hope to find and add more applications to help students face phobias, provide a more hands-on learning approach compared to a textbook and put themselves in the middle of stories to provide a more immersive experience."
According to Plutt, these machines will be plugged into high-definition TVs so audiences can watch and see what the user sees.
"We will even have applications that will involve the audience, too," said Plutt.
The plan is for the virtual reality goggles to be put in the arcade in the upstairs of the Student Union.
According to Plutt, details about the virtual reality equipment are still being sorted out.
"We will be running two sets of virtual reality equipment in the arcade for set periods of time throughout the week, and including weekends," said Plutt.
Three students have been the workers preparing for the presentation of virtual reality to students-Plutt, sophomore Rachel Logan and senior Erik Walters, with others.
"We have been working on pushing the project forward since the start of the year," said Plutt.
"Since then, we have been working every day for at least five hours a day, Monday through Friday," Plutt said.
"We built the computers, set up the software with testing configurations and applications and implemented policies to ensure that every experience will run as smoothly as possible, not just for the current semester, but for years to come."
The presentation of virtual reality to Pitt-Johnstown students are to bring more interest to the technology available at Pitt-Johnstown.
According to Walters, virtual reality should bring more people in.
"Once people experience virtual reality, it is a whole new world.
"Students have been pushing forward on the project since its inception," Walters said.
With its newness, the virtual reality goggles will more than likely be used for fun than anything in the arcade.
According Brooks, it will be used mainly for gaming.
"I think it will be wildly popular.
"The gaming aspect will bring in a lot of students," Brooks said.