Tutors are in training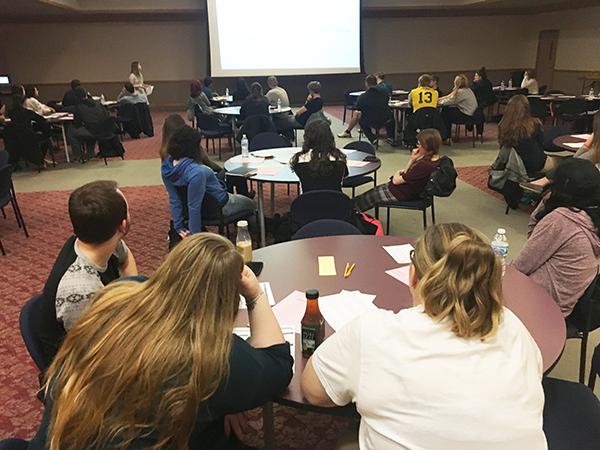 Tutoring Coordinator Leanna Noon says the largest number of student paraprofessionals on campus, 127 tutors, were employed last semester at the Academic Success Center.
To become a tutor, students must have a 3.0 cumulative GPA with an A or B+ grade in the course the student wishes to tutor for.
Noon said potential tutors also have to attend training sessions and complete an interview.
"The interview with me serves to ensure that the positions are staffed with respectful, appropriate and academically qualified tutors," Noon said.
Noon said, during last semester, 895 students utilized the service.
"The (Academic Success Center) promotes tutoring as a means to maximize performance and one's GPA, rather than as a strategy to avoid failure.
"Peer tutors are trained not only to review content, but also to help students improve study skills and general academic success strategies geared toward each specific course," Noon said.
Peer tutoring also offers an opportunity for students to take on a leadership role and positively benefit the campus community, according to Noon.   
"Research also indicates that peer learning activities yield more supportive relationships, greater social competence, communication skills and self-esteem," Noon said.
Senior Eden Cohen, who has been tutoring since last semester, said she wanted to become a tutor ever since she was tutored as a freshman.
"(Tutoring) is a good resume-builder, a way to help the campus community and a way to review the course material myself," Cohen said.
Cohen also said one of the benefits of students tutoring students is they are more approachable than professors.
"Of course, professors can answer the questions students have, but it's hard to work up the nerve to go to their office hours and ask. Tutors have taken these classes, and we remember what it was like.
"We can also devote more time to a single student than most professors can," Cohen said.
She added that one of the most rewarding parts of tutoring is being able to improve upon her skills in the subject, saying questions make her think about the material in a different way.
Although the process is rewarding, it doesn't come without its challenges.
"The most difficult part of tutoring probably varies by what sort of tutoring you are doing. Peer tutors, supplement instructors and drop-in tutors all face their challenges," Cohen said.