Van service falls short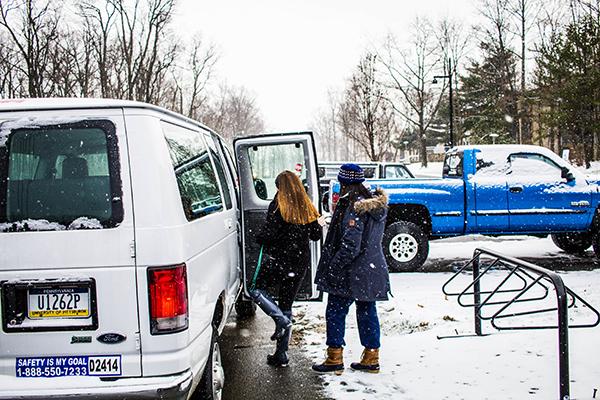 College Park Apartments are to open next semester, but the path between there and campus still lacks a sidewalk. Fortunately, a shuttle service from campus to Wal-Mart is to be expanded for rider convenience.
According to an online message, the shuttle service runs between the Student Union and Richland Town Centre every 20 minutes. Housing Director Sherri Rae said the service is to stop at the apartments from 7:45 a.m. to 1:45 p.m. Then, the service is to overlap with the current service to Richland Town Center, becoming one of three stops between 2 and 6 p.m.
Rae said that the shuttle service is a joint effort of the Housing staff members and police officers.
"If it were up to me, we would run to shuttle up to 9 p.m.," said Rae.
"We cannot find enough drivers who are licensed properly or insured properly. Most are retired, and a lot don't want to do nighttime hours."
Rae said she would love to have the hours extended.
"We want our students to be safe, but we also want them to be smart."
Rae suggested that students with night classes ending after shuttle hours get rides from friends or walk through the Richland Municipal building parking lot instead of walking on dark icy roads.
"We will continue to pursue van drivers," Rae said.
Rae said that the apartments can house 140 students, but some rooms are to be used for resident assistants and professional staff. Around 70 students have signed up to occupy the building next semester.
Freshman Yvonne Nguyen is to be a resident assistant in the apartments.
"I have to take the earliest shuttle here on Mondays, Wednesdays and Fridays," she said.
"I'd probably get home before 6 every day. If I get home at 7, I'd probably get a ride because there's no way I'm walking in this weather."
Nguyen said one problem she'll have next semester is getting to the gym. She said she could take dumbbells to her apartment, but that she would have to carry them up multiple flights of stairs.
"I can't really ask anyone to come help me because I move in before anyone else," said Nguyen.
"They (Housing staff members) don't even let anyone move in until Tuesday (before school restarts)."