Study site options have increased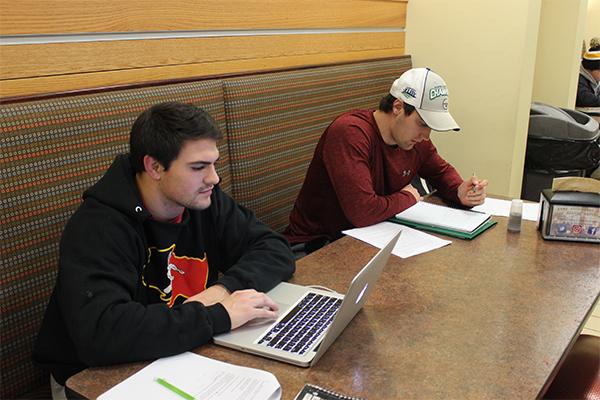 In preparation for finals week, the Student Union is to remain open 24 hours a day, according to an email sent to students.
While additional space in the Student Union is to be open, none of the dining locations in the building will be serving food overnight.
Student Affairs Assistant Vice President Bob Knipple said the decision to open the Student  on a 24-hour basis during finals week was made by the Student Affairs staff.
"If I recall correctly, student government representatives approached us with the actual request," Knipple said.
"Additionally, Conference Services provides some extended hours in the Living/Learning Center," Knipple said.
The Living/Learning Center is to be open from 7 a.m. to 2 a.m., 7 a.m. to 9 p.m. Wednesday and Thursday and 7 a.m. to 8 p.m. Friday, Knipple said.
"In the past, there were extended hours in the Student Union, but demand seemed to diminish, and I think we went a few years when it was not open. We resurrected the 24-hour availability last December."
Knipple also said opening the Student Union is important because it's something the students requested.
"Also, the union is centrally located with regards to the residence facilities, so students don't need to travel across campus to return to their rooms in the wee hours of the morning. Having the Living/Learning Center open serves the same purpose for those students residing in that facility," Knipple said.
Knipple also said the Student Union is essentially the living room for residential students.
"(Students) spend a large amount of time in the union, and they're comfortable there."
He said one of the advantages of opening the union 24 hours a day is because of it has multiple areas that are ideal for small group or individual study.
"The Cambria Room, for example, has the capacity to provide study space for several groups because it's already set up with tables and chairs for accommodated testing during the day," Knipple said.
The email said the Cambria Room will be available for evening study from 5 p.m. to 7 a.m.
At least one student said she found the 24-hour Student Union and extended Living/Learning Center hours a valuable resource in studying.
Freshman Mali Taijman said she plans to utilize the union.
"Sometimes, I need a break in between studying, so it's nice to people-watch:  especially guys I know I have no chance with."
Freshman Emma Adams said she plans to study in the library.
"If I decide to go outside, I'm not going to go to the union to study."
Knipple thinks the additional hours will be beneficial for students.
"I think that anything we can do to provide students with suitable study areas is always beneficial. Final exams are stressful enough, without students needing to worry about finding a place to study."