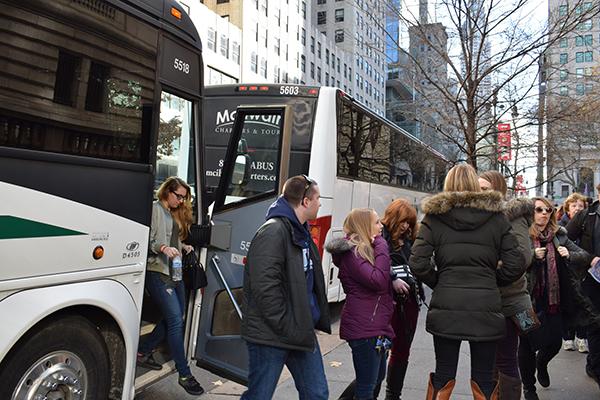 Dan Klein
A total of 160 students took an annual bus trip to New York City, but the journey from desiring to sitting on the bus was longer than necessary for some.
"The registration system went live earlier than we thought it would," said Student Affairs Assistant Vice President Bob Knipple.
Traditionally, trip registration opens mid-November. This year, however, students were signing up for seats in October.
"When people went (onto the Campus Services website) to register for Pitt-Oakland football games, they saw it and registered. We filled two buses before we started actively publicizing," Knipple said.
At the Nov. 1 student government meeting, senators discussed sponsoring a third bus using emergency-allocation money. Student activity fee dollars feed that pool.
Student Affairs Vice President Shawn Brooks noted that last semester, a Habitat for Humanity spring break bus broke down in South Carolina. Three buses would increase the risk of incident.
"It was an utter nightmare," Brooks said of the South Carolina breakdown.
At the Nov. 15 meeting, student government representatives successfully allocated $2,595 for a third bus from the emergency funds.
Student government Treasurer Joe Evanko said that he had originally tried to request a bus through the same company, McIlwain, which had been booked.
Due to a campus policy about insurance restrictions, they had to request a bus through the Pittsburgh-based company, Lenzner, instead.
This bus cost $4,895. Brooks covered the extra out of his operating budget, according to Evanko.
Brooks said that the original plan was to scrap the list of already-registered students and reopen both buses after having put up posters.
Knipple said that Programming Board members tried to find a solution equitable to everyone.
"Those with early registration didn't do anything wrong, but it was wrong to others."
Instead, on Nov. 17, the Campus Services site opened the third bus for registration.
According to a campus email, registration was to open at 9 a.m. that day. According to sophomore Nick Begonia, it was open prior to that.
"I went online and opened the page before bed so that I could do it when I got up, but then I saw it was open. I texted all my friends and told them to get on it," said Begonia.
Those who went on the site to register at 9 a.m. found the registration already full.
A second email was sent to students that afternoon.
"Due to technical difficulties, the sign-up for the New York City trip is rescheduled for midnight tonight," the email began.
"I was real mad," said Begonia.
"I was sitting on my computer, and it filled right up. Three of us got on.
"I am still going. I'd probably go by myself."
Knipple noted that administrators were proud of the trip, as they were able to benefit 160 students.
Participants were picked up at 4 a.m. Dec. 3 and bused to Bryant Park, where they were picked up at 8 p.m. that night, according to Knipple.
"(Programming Board adviser Alex) Wagner put the trip together, but Sherri Rae is leading it," Knipple said.
Housing Director Sherri Rae said she was not involved in planning the trip, but volunteered to be one of three professional chaperones.
Rae said that she has been in charge of the trip for 14 years.
"Because of the confusion, I stepped in to manage when the confusion with the third bus hit the Friday before Thanksgiving," Rae said.