Supporters rally to see Trump at work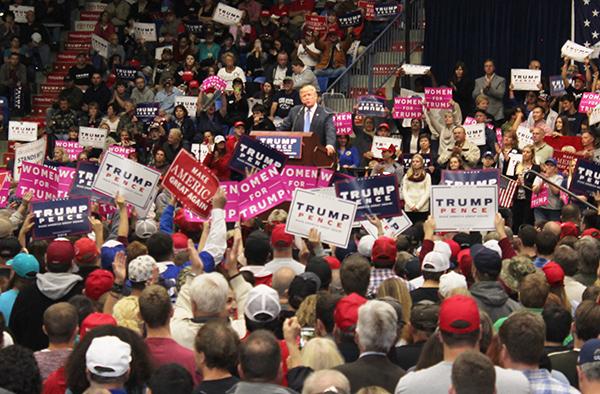 Last Friday, Republican Presidential Nominee Donald Trump spoke for about an hour at the Cambria County War Memorial Arena in Johnstown.
Cambria County Republican Committee volunteers were anticipating his arrival the day before, looking for someone to sing the national anthem and recite the Pledge of Allegiance.
Cambria County Republican Chair Jacqueline Kulbak said committee members had been busy preparing for Friday's rally.
A volunteer received a phone call reporting a stolen Trump yard sign. The volunteer said the sign would be replaced.
At the rally, Trump spoke about bringing coal mining and steel-working jobs back to the United States from overseas.
He also spoke about rebuilding Pennsylvania infrastructure.
"I'll rebuild the bridges. They're structurally deficient. Would you want to drive over them, maybe take a nice swim?"
Trump left the stage after addressing the crowd of more than a thousand.
After the rally ended, red letters 4-5-feet tall spelling Trump were standing against the front windows of Oak Hall, apparently the same letters held above bleachers accompanying music to Trump's departure from the stage.