Police send emergency alerts to those on list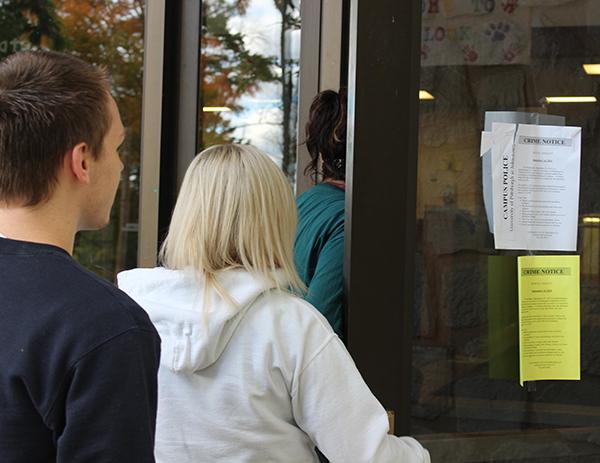 In the event of imminent danger, campus police are to issue notices to students, faculty and staff via email or text message.
Only those who have signed up for these alerts will receive them.
"Whenever there is an immediate danger to the campus, like a school shooter, a notification is sent out through the Emergency Notification System," Campus Police Chief Eric Zangaglia said.
To receive notifications, you must sign up for the service in the Emergency Preparedness section on the Pitt-Johnstown website.
"We don't have access to everyone's personal information, so you (students, faculty and staff) have to put in all of your information yourself, and then we send out the (notifications based on) all of the information provided," Zangaglia said.
At least one student, freshman Amanda McMonagle, said she wished there was no need to sign up to be notified. "I wish it was just sent out to our Pitt emails," McMonagle said.
"It would just make it a lot easier since it was kind of confusing when I went to sign up for the notifications."
A testing of the notification system occurred Sept. 27.
In the event of an occurrence that does not pose immediate danger to campus community members, like a burglary or sexual assault in which the assailant is known and under police control, timely poster warnings are distributed.
"We have the posters put up as soon as possible," Zangaglia said.
McMonagle said she heard a rumor about a burglary on her way to dinner.
"When we left the cafeteria, I saw about four poster alerting of a burglary just in the Student Union."
Freshman Natalie Scelsi said she likes the use of the posters for alerts.
"The posters are placed in heavily trafficked areas, so I think they are a good way for us to know what is going on throughout the campus."
So far this semester, there have been two crime notices posted around campus.
The earliest was in reference to an alledged sexual assault in a residential building that occured Sept. 14.
A second notice was in reference to a Sept. 24 incident in which a male alledgedly sexually assaulted his female study partner in a residential building.
The notice alerted students that the suspects  were identified, and it asked students for additional related information.