RA-student ratio falls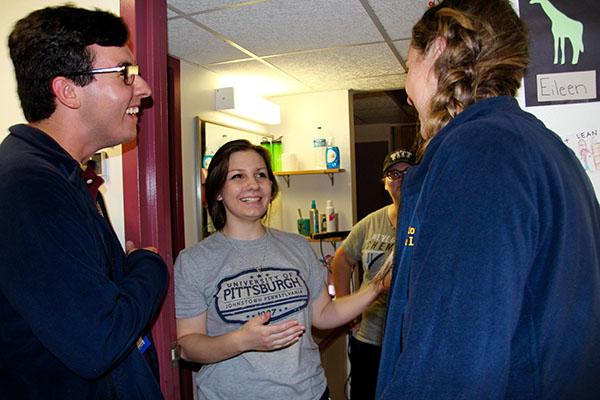 The residence-hall housing hierarchy has diffused responsibility from head honchos to the more numerous resident assistants in a sweeping revamp.
Student Affairs Vice President Shawn Brooks said that, at other universities across the state, RAs monitor a sub-community or section of a residence hall.
"(Pitt-Johnstown) resident assistants were hired for the entire building," Brooks said.
This situation allowed students to slip through the cracks in the communities, he said.
"Resident assistants are responsible for developing a community feel."
In freshman residence halls, liaisons monitored Real-World Experiential Communities. Freshmen were housed based on their academic or personal interests, and liaisons would program for each group.
"There was no identification with the group," Brooks said. "It wasn't working."
Brooks helped to recreate the staffing structure over the summer, decreasing the RA-student ratio to 1-20.
Of the liaisons hired for this fall, Brooks said, five were hired into Resident Assistant positions for freshman residence halls.
Three others were given the title "programming assistant" to help program for the entire campus.
Resident assistants acquired now program for their specific communities, based on what their residents expressed interest in.
Laurel RA Kali Hepburn said the system is going well.
"I have a hallway and 17 residents. I know most of their names already."
Laurel, a freshman residence hall, had two RAs and a resident director last year. This year, Hepburn is one of five RAs under the hall's head resident assistant.
To run a program, Hepburn said she knocks on doors and asks residents what they want as an activity.
She is already planning a tie-dye event in conjunction with two other Laurel RAs.
"We get $4 per student for the whole semester."
Last year, Hepburn said she spent $200 on a tie-dye program for her Hickory Hall residents.
"We can only do one building-wide event a semester."
RAs have access to the new programming grants system for their events as well, as long as they invite everyone on campus.
Andrew Downey, who is also an RA in Laurel, said they do four social programs each semester.
"If I have 17 residents, that's $17 a program."
Last year, Downey worked in the Living/Learning Center. "I had $300 for a program," he said.
Downey said the abundance of money from last year went to the programming grant pot for everyone on campus.
"It's a great idea if used the right way."
Overall, Downey said the position was easier from an RA perspective.
"We're on duty less, so we can study more. If a buddy needs help, I can go do that."
He said that he can get to know his residents better, and it distributes the work load more evenly.
"RAs handle more of the paperwork. It's more distributed and lessens the load of the head resident assistants."
If he were to use a programming grant for an activity, Downey said he would organize a ballroom dancing class with an instructor in the Wellness Center.
"It would bring class back.
"The people who created the grants are looking toward us. If we say things are working well, they'll take that into consideration."