Governor Tom Wolf announces engineering grant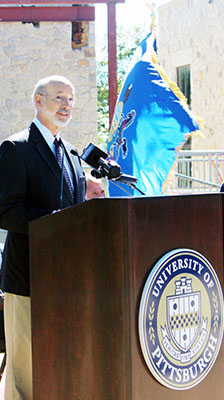 Pennsylvania Gov. Tom Wolf on Friday announced a $2 million grant to Pitt-Johnstown to complete the Engineering and Science Building's renovation that is to include space for a new chemical-engineering program.
The renovation is part of a $23 million project that also includes Krebs Hall's renovation and the Murtha Center construction.
Wolf made the announcement on a 10 a.m. visit to Pitt-Johnstown, with Pitt-Johnstown President Jem Spectar, state Rep. Bryan Barbin and state Sen. John Wozniak.
"I am here today to announce a very important investment that the commonwealth is going to make in this community, an investment in students, western Pennsylvania, and, really, an investment of all Pennsylvania," Wolf said on a temporary stage before the engineering building's construction.
He said the community is blessed with a number of resources, including natural resources and hard-working people.
"And, in order to maximize our leverage in these resources, we've got to do everything we can to make sure that we are giving you and giving these resources everything they need."
A crowd of nearly 100 students, faculty and staff gathered before the stage, mostly on walkways on the slope leading to the library. Among them were Kyle Maguire, Student Government Association President, and, Shawn Brooks, Student Affairs Vice President.
"Not only will the students benefit from such a large grant, but the community will develop as well," Maguire said.
An email about the announcement had been sent to Pitt-Johnstown community members Thursday.
Spectar thanked Wolf for the grant that helps with Pitt-Johnstown's budget. He also said that the new chemical-engineering program has about 20 students this year.
"And that is amazing (for a program in its first year)."
Barbin said his grandfather, father and he are all University of Pittsburgh graduates, and his job is to rebuild this community.
"…one of the best ways to rebuild this community is to have a world-class education."
Wozniak said he was graduated from Pitt-Johnstown in 1978, and has been an elected state representative for 36 years.